Dear Artist,
Recently, Jerry Smith from Dallas, Texas wrote, "I painted in watercolour for many years and then became mentally unable to paint, suffering with Parkinson's and depression. I'm proud of my paintings but I felt compelled to give away my paints, brushes, supports and all other materials. The good news is that I have replaced my painting with poetry. I'm just a novice poet and have much to learn. I wonder if any of your followers have similar experience and how they dealt with it."
Thanks, Jerry.
Artists, especially those who've lost the use of their chosen instrument, seem to be natural-born adapters. Beethoven's hearing had begun to deteriorate by his mid-thirties until he was almost entirely deaf at death, yet his most admired works were composed during the last 15 years of his life. For others, like glass blower Dale Chihuly who suffered an eye injury mid-career, adaptation came in the form of drawing, painting and taking on a team of assistants who helped with depth perception and larger production. All this led to Chihuly realizing his dream to elevate the craft of glass blowing to a global art stage.
After suffering permanent nerve damage from repeated small muscle movements, Phil Hansen dropped out of art school and fell into a depression. His neurologist suggested he embrace the limitations of his shaky hand by redirecting his creative impulses. For Phil, that meant forgoing detail work and instead building large-scale sculptures, making videos and using time-sensitive materials like candles, worms and his own body. "Embracing limitation can drive creativity," said Phil.
In 1967, twenty-seven year-old painter Chuck Close wanted to make art more difficult — to force a breakthrough by abandoning the paintbrush. "I threw away my tools. I chose to do things I had no facility with," he said. "If you impose a limit to not do something you've done before, it will push you to where you've never gone before." Twenty-one years later, a spinal artery collapse left Close wheelchair-bound, but still painting.
Our impulses to make art supersede convenience, and inconvenience can be key to a higher expression. "You are a cosmic happening rooted in a local event, not the other way around," said Michael Beckwith. The channel of creativity is never singular, and art will find a way. "Where you stumble," wrote Joseph Campbell, "there lies your treasure."
Sincerely,
Sara
PS: LAZY, SUMMER AFTERNOON by Jerry Smith
A trickle of sweat
Rolled down my brow
The summer sun
Warmed me,
Lulled me,
As I rocked.
The smell of fresh-cut grass,
The buzz of a humming bird
Settled over me
Like perfume of Lavender and
A soothing glass of sweet tea.
An uneven deck board
gave my rocking a rythmic
click, thump, click, thump.
Until it stopped.
Click. . . thump.
I awoke to
Rolling thunder
and rain drops falling
where sweat had rested.
It was a good day.
Work done, rested,
Smelling fresh cut grass and lavender.
Esoterica: Parkinson's disease is when dopamine-producing cells in the brain stop working over time. The causes are mostly unknown. Early symptoms include tremors, stiffness, slowness and difficulty in moving, sometimes advancing to sensory and sleep problems, dementia and depression, with sufferers prescribed medications to replace the loss of dopamine. Some neuroscientists believe that dopamine and creativity are linked, based on the observation that artists who suffer psychosis — which involves high dopamine activity — can be extremely productive. Some people diagnosed with Parkinson's get suddenly arty on their prescribed medications, which may lower creative inhibitions to reveal once untapped heights of creative joy.
Actor Michael J. Fox was diagnosed with Parkinson's at the age of 30. In 2010, he wrote, Always Looking Up: The Adventures of an Incurable Optimist.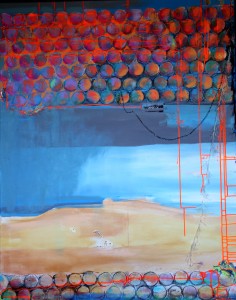 Hurricane
Featured Artist
I'm a contemporary painter who loves to travel the world over finding pictures to paint, and capture on photo…check out my website and travel with me on my blog "The Traveling Artist Blog."  http://www.meljosieart.com