Dear Artist,
In 1970, Geoffrey Bardon was teaching elementary school art in New South Wales when he could no longer ignore the emotional struggles of his Aboriginal students. In an effort to gain insight, he applied for a teaching post in a remote government assimilation centre 240 kilometres west of Alice Springs. In his diary, he described Papunya as "a hidden place, unknown on maps, considered by officials as a problem place," where 1400 people had been gathered from scattered tribal groups, having been forced from their land and way of life. Seeing instead "a community in distress, oppressed by exile," and "a place of emotional loss and waste," Bardon broke with protocol and immersed himself in the lives of his students in an effort to honour and understand their languages, culture and beliefs.
After watching the children make sand drawings of their Honey Ant Dreaming creation story, Bardon invited them to transfer the imagery into a mural on the side of the schoolhouse. He supplied paints and brushes, and when the mural grew too large in scope for the children, some community elders joined in, inspired to revitalize their desert traditions of painting on sand and rock and ceremonial body painting and feeling they were better experienced to tell the story. Bardon, inspired by this enthusiasm, then gathered supports for more paintings — first cardboard and wood, then canvas — and encouraged the artists to look to their culture for painting inspiration. At first, only the older men painted — the storytellers of the sacred, temporal motifs that could be obfuscated and erased during ceremonies — details that were forbidden to be seen by women, children and uninitiated young men. Originally not intended to be sold, the paintings began to attract admirers beyond Papunya and Alice Springs, and the artists found a way to camouflage any private aspects of their Dreamtime stories by layering coloured dots in acrylic paint over sensitive areas. Their now portable, permanent artwork had evolved into a signature style and, to many, the layers of dots and dancing circles had become integral to the telling of the Dreamtime stories and their meaning.
Bardon left his teaching post at Papunya after only eighteen months, his health deteriorating while enduring hostility and suppression from his government employers. In 1972, Bardon and the artists organized an artist-owned co-op, sparking the beginnings of what is now known as the Western Desert Art Movement — historians now call it the "greatest single cultural achievement" of Australia's post-settlement history. Forty-five years later, Australian Aboriginal contemporary art is collected worldwide and the Papunya Tula Artists Pty Ltd. represents 120 artists, has 49 shareholders and is just one of over 30 art co-ops owned by Aboriginals and Torres Strait Islanders across Australia.
Sincerely,
Sara
PS: "Those who lose dreaming are lost." (Australian Aboriginal saying)
Esoterica: Critics have characterized Bardon as an intervening exploiter who directed the artists of Papunya towards a formulaic painting system that could be commodified for a 1970s global contemporary art world. Like Heissenberg's Uncertainty Principle or the Observer Effect, whereby simply observing a phenomenon changes it, historians now mostly agree that Bardon, in his efforts to keep art accessible to the displaced and dispossessed, unavoidably altered the course of Aboriginal art traditions. But, in doing so, he inadvertently collaborated on a bridge to cultural understanding and nurtured into existence a now globally-revered contemporary art movement. "A catalyst is needed for all the big developments in art, and Bardon was the right person at the right time," said Senior Curator of Indigenous Art at the National Gallery of Victoria, Judith Ryan. "He was not an anthropologist, but he understood art, had the right temperament and was selfless."
For the rest of his life, Geoffrey Bardon stayed in touch with the artists at Papunya, making documentary films and writing books about them including Papunya Tula: art of the Western Desert (1991) and Papunya: a place made after the story (2007).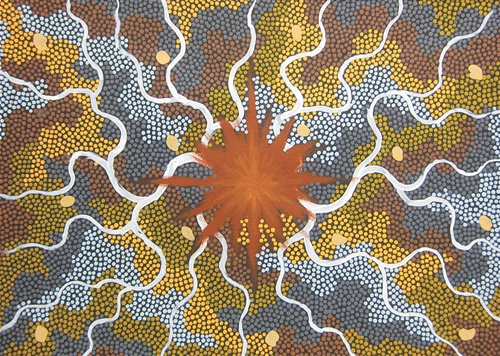 The audio letters are now ready to give as a gift!
The Letters: Vol. 1 and 2, narrated by Dave Genn, are now available for download on Amazon, here. Proceeds of sales contribute to the production of The Painter's Keys. 
"[The paintings] were produced by people who were displaced, and living a long way from their country. The works were visual representations of their own being. They painted sites that they belonged to and the stories that are associated with those sites. Essentially they were painting their identity onto their boards, as a visual assertion of who they were and where they were from." (Paul Sweeney, Papunya Tula Artists manager)