Dear Artist,
Good karma is a creative tool. By contrast, bad karma can interfere with your work, slow your progress and spoil your fun. Your words and deeds are your honour and your glory. Future power is needlessly given away every day by thoughtless moves and ignorant remarks. It's sad to realize that most of the world's evil begins with our mouths. Here are some karmic tips for artists:
Make sure you stand a reasonable chance of following through when you say you are going to do something. A legacy of unfinished or incomplete projects or promises weighs on the soul and derails further productivity.
Giving your own stuff away is the seed of good karma. You have been gifted with this joy; why not share your gift? It's been my experience that exuberant giving powers invention, creativity, and further unlocks earth's bounty.
When you are asked to donate your art to a charity, think about the charity before you do. Some are better run, more cost effective and more valuable to society than others. You have the power to influence progress.
Realize that, because of art's permanence, you will continue to be around for other incarnations. Make sure your works are worthy of this immortality and not just the fashion or expediency of today.
Give every one of your associates their dignity as well as respect for their boundaries and capabilities. It's the marvel of humankind that we all have something different to offer.
We are our thoughts. Positive thoughts give positive results. Do not be for long with those associates, dealers or other artists who have negative thoughts. They conspire to weaken your own karma and make you miserable like them.
Best regards,
Robert
PS: "The wise ones work for the welfare of humanity. The enlightened ones inspire others by performing works efficiently." (Bhagavad Gita)
Esoterica: The idea behind karma is that every being contains an eternal spirit that is working out its destiny over many lives. I like the concept, but like many other artists I'm into karma in the here and now: "You expand your consciousness, your ideas, your perceptions. You break away from self-adopted restrictions. You grow as you learn to step aside from limiting conceptions and dogmas." (Seth)
This letter was originally published as "Good Karma" on June 11, 2002.
Download the new audio book, The Letters: Vol. 1 and 2, narrated by Dave Genn, here. Proceeds of sales contribute to the production of The Painter's Keys.
"Take a chance on your own abilities clearly, neither exaggerating them nor under-assessing them." (Seth)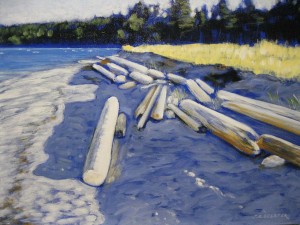 The late afternoon sun on the tip of Savary Island's Indian Point highlights the design elements of the logs and the summer surroundings of the island.
Featured Artist
My enjoyment in representing the beauty of our world with strong design and bold colours is what drives my passion for my landscape painting of Savary Island and other parts of our amazing planet.