Dear Artist,
I recently met my downstairs neighbour — a New York jazz-punk original, an arranger of avant-garde film scores, flamenco producer and composer of chamber music for the electric violin. He also conducts an orchestra of Thai elephants. By day, he's a neuroscientist at Columbia University's Laboratory of Dopamine Neurotransmission. By night, he breaks up Chopin's piano scale and has stretched the Minute Waltz into half an hour.
Long ago, I sprawled on the floor in front of the secondary easel, strangled by the limitations of the Prismacolor pencil set. I was five or six years old. "Sophisticate your greys," said Dad. He leaned over with some primed panels and squeezed out a palette of acrylic paint.
Grey is the jazz of colour. When done right, grey is a soul-stirring, weep-worthy passage of luminosity and glow — a vibration-maker. Virtuosity is achieved by relinquishing black and understanding the Munsell Colour System. You need only invest in a colour wheel, then begin to break it up and take it apart.
Something unexpected happens with grey. The colour itself seems to understand the power of in-between, like suspended twilight or ineffable places of attachment. Perhaps the narrative material is less apparent in grey — her stories curtained or over-shone by louder, simpler truths. In the meantime, grey's meanings remain fluid. In the language of painting, understanding grey separates us from the obvious. We are removed from the one-note or cacophony of primaries and moved closer to poetry.
In the language of colour, grey is a key to mastery. Start with a light grey imprimatura. Warm or cool, it becomes an early signature move that determines later choices. Vibrancy is only as effective as the mastering of restraint. "Better grey than garishness," said Ingres. So, if you lean toward a high chroma, your new grey ground should keep things classy.
Grey begins with white and miniscule dobs of warm and cool complementaries. At the other end of value, grey is full-strength. Dioxazine violet and phthalo green mixed in equal parts will give you blacker-than-black. Now play. Scumble cadmium orange over pale violet. Pour cadmium yellow lemon into a lake of puddling crimson — the vibrations are hotter than a kitchen sink full of abutted primaries.
Your deliberate, subtler warms and cools become a place to rest, to stretch time, to dance and dazzle. Once you sophisticate the in-betweens, your blacks and whites can take their solos and shine.
Sincerely,
Sara
PS: "There's a difference between external truth and pictorial truth. It's often the painter's job to understand and craft this difference." (Robert Genn)
Esoterica: In Mastering Colour, Richard Robinson explains the Munsell Colour System and breaks down the basics of mixing and achieving tricky middle-values. For grey, the colour wheel is your ally. In Minute Waltz Variations, David Soldier digitally extracts "microtones" or "notes that Chopin did not write." The Minute Waltz in Half an Hour becomes a meditation on something already perfect. Where to go? For artists, after a few thousand hours at the palette, the prismacolors in the cerebral cortex are as good as grey.
Comments
comments
Featured Workshop: Gwen Fox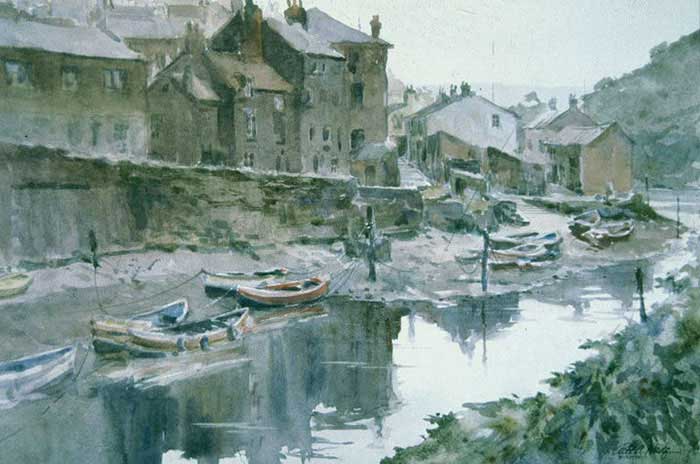 Grey Morning Staithes North Yorkshire
watercolour 14 x 19 inches
by Robert Wade, Australia
You may be interested to know that artists from every state in the USA, every province in Canada, and at least 115 countries worldwide have visited these pages since January 1, 2013.