Dear Artist,
I crawled back into my space. After the hyper energy of the outer world, the East, pushing and shoving, sights seen, gifts collected, philosophies touched. This room, this untidy room, now tidy from my absence, the home of my work, this studio.
The old clock's humming. The same paint-rags. The forgotten aroma of art. The brush dips into the modelling paste, the titanium white, the burnt umber. The acrylic-medium gloss feels good. After the overcrowded world, the shaking aircraft, I've come to the conclusion that if there's any place I can make it, it will be here. All that reference will have to wait. Do you ever have the feeling that you just want to do it?
To the side of my palette I'm making a little list: The sheer sensuousness of the color sitting up and laying down. The privilege of knowing more or less how to draw. The thrill of grabbing the right complement. The realization that most things are a puzzle anyway.
The luxury of gradation. The satisfaction of figuring out and enacting the best glaze. The joy of busy areas. The fun of toning down. The trick of finding out what it is that you're doing. The love of calm. The developed skill of seeing. The determining of what's wrong and then fixing it. The excitement of color surprise. The Zen of watching paint dry. Getting the lick of your dog. The satisfaction of letting the answering machine pick up. The prickly happiness that breaks out when you have the delusion or the fantasy that what you have just done is a piece of quality. The anticipation and possibility that the next one might be better.
Best regards,
Robert
PS: "Quiet minds cannot be perplexed or frightened, but go on in fortune or misfortune at their own pace, like a clock during a thunderstorm." (Robert Louis Stevenson)
Esoterica: It may not be easily earned. But when you know in your heart that a cycle can be repeated — not identically, or even nearly in the same way as before — but through a similar process, you own something. What you own is: "I can do this."
This letter was originally published as "Looking inward" on November 27, 2001.
Comments
comments
Featured Workshop: Michael Chesley Johnson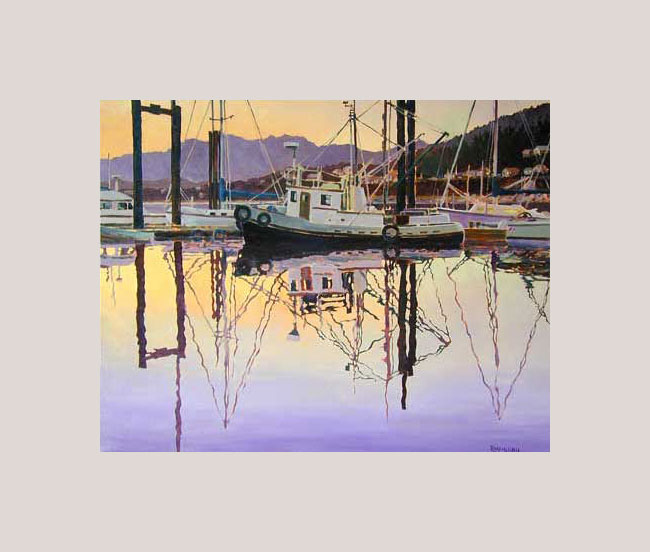 Journey's End
oil painting 24 x 30 inches
by Robert H. McMurray, Surrey, B.C., Canada
You may be interested to know that artists from every state in the USA, every province in Canada, and at least 115 countries worldwide have visited these pages since January 1, 2013.