Dear Artist,
My daughter, Sara, and I are again up to Lake O'Hara and Yoho National Park in British Columbia. Today, in the champagne air of a place known as "The Hanging Gardens of Babylon," both of us are struggling with extra-large canvases. We've come this high with a little help from our friends, and we're talking about "strong and wrong." It's a term currently used by some of Sara's New York musician friends. Apparently it's better to blow a strong note off key than to produce a wimpy one that doesn't get noticed.
Here in this grandeur where boldness has dominion, big statements seem appropriate. This place was formed in fire and reorganized by ice. Those mountains are strong. These rocks are monumental. These skies are so powerful and move so fast between the peaks, you can't really grab 'em. Let 'er rip.
A line of hikers is far below on a zigzag pathway. Sometimes we glimpse others climbing the distant cols or moving slowly along the windy ledges. All around there's a spirit. Something's happening in this amphitheatre beyond boots and poles, backpacks and water bottles. It's something to do with worship.
For us paint-pushers it's all about inhaling, so much so that one can be out of breath trying to climb Nature's truth. Our audacity seems impudent. Nearby, there's a place called "All Souls." We don't know how it got its name, but we can guess. As if anyone can enter, we find the best path is to simply accept the test. In the words of the English poet Robert Browning, "I count life just a stuff to try the soul's strength on."
Every time we return, we feel it again. There's the mystery of creation, the evidence of sweeping powers, the presence of a mighty hand. Cannot the little hand that mimics this be also mighty?
Best regards,
Robert
PS: "Something we were withholding made us weak until we found it was ourselves." (Robert Frost)
Esoterica: A benefit in painting, not available to musicians, is the ability to cover or quickly remove bloopers. What's a blooper between friends? As we say in the cover-up-your-sins world of acrylics, "Nobody knows what's under there." But a bold early statement is often key to a stronger work. Later and lesser strokes become just grace notes to the greater theme. We're noticing how valuable are the early gestures — cursory, generous, thick and large — the strong and wrong.
This letter was originally published as "Strong and wrong" on July 28, 2009.
The Letters: Vol. 1 and 2, narrated by Dave Genn, are available for download on Amazon, here. Proceeds of sales contribute to the production of The Painter's Keys.
"Two roads diverged in a wood, and I – I took the one less traveled by, / And that has made all the difference." (Robert Frost)
Featured Workshop
August 31, 2019 to September 5, 2019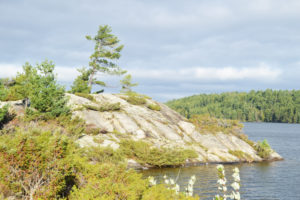 Six days in the Near North of Ontario Canada. Killarney and the La Cloche Mountains were a favourite location the Group of Seven visited to paint. Rugged, with granite cliffs thrusting hundreds of feet out of the water. Northern forest, islands, bald rocks and only accessible by boat. We travel to most locations on a sturdy pontoon boat. Whether it's setting up on a rock face, a low lying island, or sitting at the base of a waterfall, every view is worth capturing. You stay in rustic cabins, each with its own cooking facilities. There is a large room we can paint in if the weather turns against us. Your instructor is Keith Thirgood who has been teaching adults to paint for 12 years. He will show you a step by step approach to painting en plein air, which makes capturing a scene easier than you might have thought possible. He'll also teach Modern Colour Theory with a limited palette, which makes colour mixing easy.
For more information, visit www.wilsonstreetstudios.com.