Dear Artist,
"Curator," one of the commonest words in the art vocabulary is hardly mentioned in the art handbooks. According to the Oxford Dictionary it's derived from the noun 'curate' — officially "the assistant to a priest or a clergyman appointed to take charge of a parish during the incapacity or suspension of an incumbent." In historic law a curator was a guardian of "a minor or a lunatic." These days it's the person in charge of a museum or art gallery. In our business we generally think of the curator as the chooser of what's going to be seen by the public.
This license to choose implies that a certain amount of specialized education — perhaps even a curatorial degree — might be necessary to do a proper job. In addition to having a wide-ranging knowledge, some curators are said to be "talented." For many artists a curator is rather an educated non-artist who is appointed to an institution in order to jury taste. His or her job is to keep the unacceptable stuff out and see that the acceptable stuff gets in. In order to accomplish this, some curators like to help their favourite artists with their vision.
We artists either love 'em or hate 'em — often based on how much we're curated "in" or "out." The general public generally doesn't know what to think. Because of the mystique around art they tend to give them the benefit of the doubt. Like the guy who does the house cleaning and straightens the chairs at the municipal hall — somebody has to do it. Opinions of the usefulness of the position run the full gamut. Some see curating as the fettering of the creative spirit. As my friend Joe Blodgett says, "When truly bad art is to be found, curators will be the ones to find it." Joe and I punch each other into the wee small hours about this one. I find there's plenty of bad art to be found without benefit of clergy. And wonderful stuff, too.
What's going on? Our world is democratizing. Artists and the general public are now having a more effective input into what's being seen. Commercial art galleries, with their wide-ranging tastes and their inability to stage public entertainments, have become the beating heart of art-making. We and our collectors provide our own curatorship. Like it or not, look out, we lunatics are taking charge of the asylum.
Best regards,
Robert
PS: "Poetry fettered fetters the human race. Nations are destroyed, or flourish, in proportion as their poetry, painting, and music are destroyed or flourish." (William Blake)
Esoterica: Public entertainment has become one of the territories of today's curator. This is a useful service. Performance art, for example, jogs sensitivities and preconceived ideas, re-aligns conservative neurons and creates a buzz of possibilities that might not have been previously seen.
This letter was originally published as "The Curator" on January 2, 2004.
Have you considered joining our Premium Artist Listings? Share your work with thousands of readers. 100% of your listing fee contributes to the production of The Painter's Keys. Thanks for your friendship.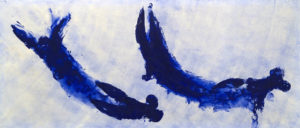 "The fact that in the last 10 years only five of the 40 Turner Prize nominees have been painters tells you more about curators than about the state of painting today." (Charles Saatchi)