Dear Artist,
An art photographer friend recently revealed she was emerging from a six-month fog. "Clients put my personal work on hiatus. I was in such a creative block I just dove into helping others and forgot about myself," she said. "I got stuck in fear." I asked her if she were to put her fears into words, what would be her Top 3? "Me?" she asked. "Okay, here goes:
"Fear of no one caring, or my work being worthless.
"Fear of not achieving what my mind thinks I can create (fear of not being able to execute.)
"Fear of not making a difference in the world, of not making a commentary that people can get, or be moved by (fear of not being understood.)"
I noticed that her words rang as a kind of amalgamated, universal truth — something that perhaps nags all of us, artists or otherwise, at one time or another. We all want to matter, to be seen, and to know that what we do is not meaningless. The question then becomes, "What is it, exactly, that gives our work meaning? Is it the doing? Is it the completion? Is it the connection? Is it the applause?"
Growing up in an artist's household, my brothers and I noticed that perhaps the most important quality of an artist is the belief in the value of the attempt. The cold, hard truth is that the world doesn't miss your as-yet unrealized ideas. The care must come from you and you alone — the momentum and the effort, simply, all your responsibility. So what is it that will propel us to make the attempt again today? Here's an exercise:
Consider for a moment, that the word "belief" is the opposite of the word "fear." You can substitute "delusion," or even "compulsion," for "belief" if it makes you feel more comfortable. Swirl around in the decadence of your own "belief," and imagine the life-preserving and vital importance of the small or big idea you are about to attempt to materialize. "Artists don't get down to work," wrote David Bayles, "until the pain of working is exceeded by the pain of not working."
Sincerely,
Sara
PS: "What separates artists from ex-artists is that those who challenge their fears continue; those who don't, quit." (David Bayles, Art and Fear)
Esoterica: In Jerry Seinfeld's 2002 documentary Comedian, Jerry walks off the stage and meets a fan waiting in the wings. After introducing himself as a struggling comic, the fan asks Jerry if there's a time to give up. "Is time running out?" asks Jerry. "Do you have something else you would rather been doing? Do you have other appointments or other places you have to be?" "Not necessarily," replies the fan. "But you get to the point of, 'How much longer can I take it?' I'm getting older. I'm 29. I feel like I've sacrificed so much of my life. The last 3 years have been a blur. I see all my friends are making a lot of money. My friends are… you know, they're moving up, and I'm worried…" "They're moving up?" blurts Jerry. "Are you out of your mind? This has nothing to do with your friends. No. This is a special thing. This has nothing to do with making it."
The comic replies, "…did you ever stop and compare your life and go, 'My friends are all married, they're all having kids, they all have houses, they have some sort of sense of normality.'" "Let me tell you a story," says Jerry. "My favourite story about show business: Glenn Miller's orchestra, they were doing some gigs somewhere. They couldn't land where they were supposed to land, because it was winter — a snowy night. So they had to land in this field and walk to the gig. And they were dressed — in their suits. They were ready to play. They were carrying their instruments. So they were walking through the snow, and it was wet and it was slushy. And in the distance they saw this little house. And there were lights on in the inside and a billow of smoke coming out of the chimney. They went up to the house and they looked in the window and saw this family. There was a guy and his wife and she was beautiful. And there were two kids. And they were all sitting around the table. And they were smiling, they were laughing and they were eating. And there was a fire in the fireplace. And these guys were standing there in their suits, wet and shivering, holding their instruments. They were watching this incredible Norman Rockwell scene. One guy turned to the other guy and said, 'How do people live like that?'"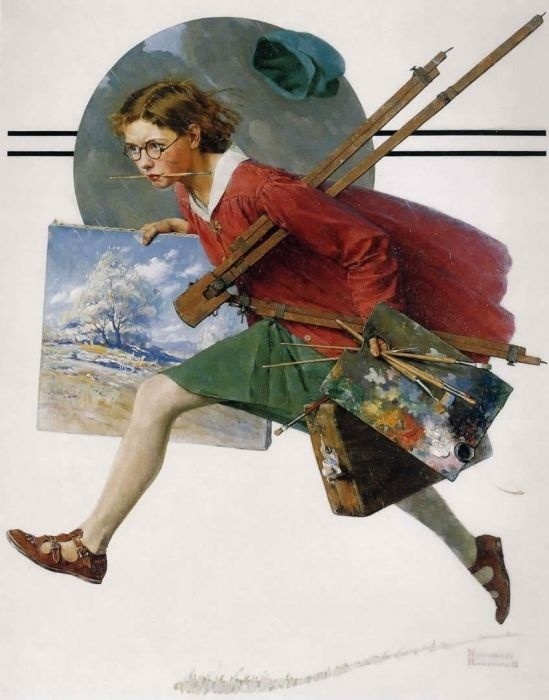 The Letters: Vol. 1 and 2, narrated by Dave Genn, are now available for download on Amazon, here. Proceeds of sales contribute to the production of The Painter's Keys.
"To the artist, all problems of art appear uniquely personal. Well, that's understandable enough, given that not many other activities routinely call one's basic self-worth into question." (David Bayles, Art and Fear: Observations on the Perils (and Rewards) of Artmaking)