Dear Artist,
All my life I've been trying to figure out ways to improve my painting. That includes study of the work of those I consider masters, trying to get the hang of their ideas, techniques and processes, and, on my own part, simple, garden-variety toil. Over the past twenty years or so, I've built up a word list that has been gradually added to and subtracted from. At one point the words actually added up to 365. I called them "Keys." They could be both negative and positive. They might be everyday common sense and they might be personal preferences. They pop up mainly while painting, afterwards when vetting my work, and often when I'm walking in the woods with Dorothy. These words remind me where I am, what pitfalls I've fallen into on previous occasions, what I am doing wrong right now and, from time to time, what I might be doing right.
You may have heard of the concept of "name it and claim it." When you identify something that's going on — a method, a technique, an attitude — and put a name to it, a natural human tendency is to hang on to it and to more readily make it your own. Naming often nails down a situation. In my occasional forays into mentoring and workshopping, I also found myself encouraging painters to build lists for themselves — lists that might reflect their own techniques and tastes. Inevitably, I had to explain some items in my own list.
An alphabetical list that might encourage thought and the building of your own lists can be found after the letter. You might find some on my list to be self-contradictory, but that's the nature of the beast. While anyone can paint, it's difficult to paint well. If it were easy to paint well, perhaps everyone would be doing it. Our work is also complicated by the fact that we often don't know what glue we're in until we're already into it. A life in art seems to be forever a work in progress. If you catch my drift, you may find that your own words and phrases will pop up and down like a whack-a-mole. As the lady said, "How do I know what I think until I hear what I say?"
Best regards,
Robert
PS: "My own words take me by surprise and teach me what to think." (French philosopher Maurice Merleau-Ponty, 1908-1961)
Esoterica: I recently printed out and ran my list past a group of artists in a two-hour Q and A. The participants seemed to be stimulated, and some great discussions arose. Some participants have continued to fire off input by email. Without completely throwing away the mystery of it all, I've added a short explanation after each key. "A word," said Ludwig Wittgenstein, "is a struck note on the keyboard of the imagination." It's my sincere wish that your imagination might at least be teased. It's also my hope that from my list you get a few ideas for your own list.
365 Words and Phrases
Abstract core — abstraction strengthening realism
Activation — magic spots that direct the eye
Arial perspective — going back easy
Art schooly — some march to a different drum
Avoidance activity — the thief of productivity
Bee-action — brushwork like a bee at flowers
Big picture — broad design trumps fiddling
Blocked — some artists simply are
Box canyon — places you can't get out of
Bravura — confident, flamboyant brushwork
Broom and whisk — brush size for style
Butterfly mind — your key to imagination
Chair and feet — hat on and how you work
Chiaroscuro — form by light and shade
Cigar time — civilized, reflective self-crit
Circulation — moving the eye around a work
Clientosis — too much attention to customer
Colour surprise — unexpected pictorial focus
Coming to light — basic principle of life
Commit and correct — a creative principle
Condition — What's happening in there?
Constipation — creative tightening up
Counterpoint — the secondary leitmotif
Defocus — softening up for mystique
Desire — the world's greatest power
Distractive creativity — gifted subconscious flow
Edgemanship — know your edges
Educosis — work blinded by education
Ego-force — the power that billows your sails
Eye control — management of the viewer's eyes
Faxification — imited range of tonal values
Flow — automatic right-brain painting
Focus — here's the climax?
Form — when all else fails
Glaze down — toning a painting for mother colour
Grace notes — extra nuances for added interest
Gradations and flats — main ways of treating areas
Grey power — sophisticated, delicious neutrals
Guilt — the thief of power
Half-closed eyes — the way to really see
Hard and soft — the two buddies of joy
Homeostasis — the creeping crime of equality
Horizontality — the alpha of back and forth
Infectious dilettantism — good enough is okay
Interlocking patterns — hidden design strength
Iron will — the power to overcome
Joy stroke — where visual happiness prevails
Kitch and callow — beginner's potholes
Leave out — subtraction as creative ploy
Leave out a primary — a winning colour device
Limited palette — less is more
Literary entrapment — the "red" barn
Lost and found — the music of disappearances
Low expectations — aim low and hit the mark
Magic hour — a great time to paint
Mishmash — a work of too many subjects
Mother colour — chosen colour pervading all
Nap time — the shut down that reboots
Overworking — the boo-boo of perfectionists
Painterly senility — watch for it as you age
Paucity — absence of; key to pictorial charm
Photographosis — photo dependence; it shows
Pink focus — noses and elbows; a convention
Plein air cure — the advent of authenticity
Point system — every work has its points
Pomodoro — the tomato of time
Pump priming — methods of getting started
Put more into it — adding without cluttering
Rebrushification — change brushes; often up
Reflected light — the gentle lift that reads
Scumble — dragging a lighter colour over
Secondary easel — a change of personality
Squeeze out — first thing in the morning
Stringy and thready — a terminal danger
Studiothrombosis — art and you can die of this
Style alert — triggering the advent of style
Surface quality — the work you love to cruise
Syncopation — boogie-woogie energy
Syntagma — similar forms montaging
Talk back — let the painting speak to you
Three four five — stepping back well into
Three sixty — rotate your view
Time inversion — slow work that looks quick
Toil — the professional's secret weapon
Too one two — a simplistic work
Toolitis — the reliance on tools
Verticality — the power of up and down
Volume — the benefits of making many
What could be? — the golden question
Zips and flourishes — Final focus fun
This letter was originally published as "365 words and phrases" on October 11, 2013.
Have you considered a Premium Artist Listing?  With each letter, an artist is featured at the bottom of this page. The Premium Artist Listings are a means of connecting artist subscribers through their work. Proceeds from each listing contribute to the production of The Painter's Keys. 
"A word after a word after a word is power." (Margaret Atwood)
Featured Workshop
January 23, 2022 to January 30, 2022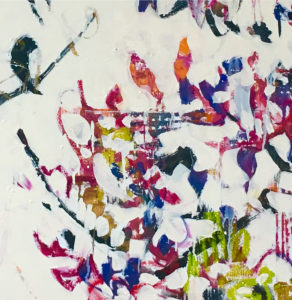 Join Ellie Harold for "Intuitive Painting: Permission to Paint Expressively," designed especially for mature women artists of all skill levels who wish to explore this medium for soulful exploration. The retreat provides attractive accommodations (your own room!) along with lightly structured activities for centering, relaxation and low stress art-making. You'll have plenty of free time to muse, paint, write and reflect while enjoying the colors, textures and flavors of San Miguel. This Retreat has the potential to transform not only your art but your life! You'll return home with a specific art "care plan" to assure support for further creating. Details at www.EllieHarold.com.
Featured Artist
Shawn's paintings evoke the feelings of the West Coast, its shores and islands, ponds and lakes.