Dear Artist,
When I was 12, I had two art teachers — Jenny, a sculptor and ceramicist, and Carolynn, a printmaker. When Jenny emailed this week, I wrote back with a question: "Do the Great Teachers know the depth of their impact and all the crystalline memories and indelible moments of encouragement and example they imprint?" She replied with photos of a painting I had given her at my graduation, with a love letter written on the back that read, "Thanks for pushing."
Jenny and Carolynn ran their art room like a small fiefdom — a kind of independent city-state tethered to the rest of the school only by a low-grade tension that flared up during report card time. The rest of the year, the room's purpose was powered by demands for quality and desire. If perhaps a little undemocratic, the vibe weeded out people looking only for a place to nap.
I remember Jenny sitting behind me at the potter's wheel, a lump of clay in her hand and her foot on the pedal. "You're standing at the top of a ski hill with your skis on, and you don't yet know how to ski." And the day Carolynn cut a set of delicate grooves into a sheet of linoleum, then inked it with a brayer, laid a sheet of Stonehenge on it and pulled a shiny, wet print. "It needs to be graphically legible," she said. "Start practicing." They opened my eyes to the distinction of being a woman and making art and took a small group to New York, where I stood before Music, Pink and Blue, which I'd lionized in the privacy of the art room library. Now it was real strokes in oil — the still early stages of O'Keeffe's masterful edgemanship and colour work — she was 29 when she painted it. "You cannot teach writing," said writing professor Gabe in Husbands and Wives, "You can only expose students to good work and hope it inspires them."
Sincerely,
Sara
PS: "I have come to believe that a great teacher is a great artist and that there are as few as there are any other great artists. Teaching might even be the greatest of the arts since the medium is the human mind and spirit." (John Steinbeck)
Esoterica: An artist friend once told me that when artists who are exposed to plenty of opportunity are not reaching their creative potential, it is often because they lack the love of a champion who will tell them the truth about their substandard work. "Your novel is unreadable," said the young Ernesto Guevara to the doctor who gave him lodging in The Motorcycle Diaries. The doctor replied, "You are the only person who has been honest with me," before sending the future Ché on his journey. When another artist friend met her hero, Judy Chicago, she handed Judy her book to sign, and when she read it later, it said, "Never Give Up."
Have you considered a Premium Artist Listing?  With each letter, an artist is featured at the bottom of this page. The Premium Artist Listings are a means of connecting artist subscribers through their work.  Proceeds from each listing contribute to the production of The Painter's Keys. 
"To be free of fear is to be full of Love." (Adyashanti)
Featured Workshop
February 26, 2020 to March 4, 2020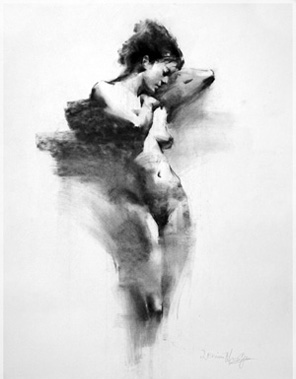 Learn from the Master! The way to do accurate drawing with painterly approach. Join us for this 7 day retreat with 4 day workshop in magical settings of Mexican back country with one of the best instructors of drawing the human figure. From short pose gesture and anatomy studies, to long pose painterly approaches, students will learn step by step the drawing methods, human proportions, anatomy and much more. Live model with small class size will insure lots of personal attention.
Henry Yan has been teaching at Academy of Art University in San Francisco for more than twenty years. His book, "Henry Yan's Figure Drawing – Techniques and Tips" published in 2006, has been widely used by art students and professional artists in the US and internationally.

Casa Buena Art Retreat is a calm and beautiful place to relax and explore your creative energy. Non painting partners welcome.
For more info check http://www.casabuenaartretreat.com/Retreat_HenryYan.htm
or contact Jane at janerom@shaw.ca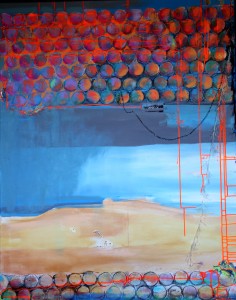 Hurricane
Featured Artist
I'm a contemporary painter who loves to travel the world over finding pictures to paint, and capture on photo…check out my website and travel with me on my blog "The Traveling Artist Blog."  http://www.meljosieart.com