Dear Artist,
In Canada, doctors are prescribing museum visits with the cost of admission covered by universal healthcare. "We know that art stimulates neural activity," says Montreal Museum of Fine Arts director general and chief curator, Nathalie Bondil. The program, piloted last year, is an extension of the museum's work with their existing Art and Health Committee, where they participate in clinical trials studying the effects of art on people with eating disorders, cancer, epilepsy, mental illness, and Alzheimer's disease. This "museum as hospital" idea also has legs for older people, the physically disabled and others with mobility issues. Because looking at art bumps cortisol and serotonin levels in the brain, it produces an effect in the body similar to exercise.
This past Wednesday, the British Medical Journal published a longitudinal study tracking the correlation between arts engagement and mortality. It turns out that hitting a museum just once or twice a year can lower your early death rate by 14%. Culture vultures fare even better at 31%. On top of this, studies from Denmark and Great Britain have found that hanging paintings — especially abstracts — in hospitals improves patient satisfaction, health outcome, length of stay and pain tolerance.
While experts hammer out what kind of art heals best, the big hospitals are hiring their own curators to test the notion of "hospital as museum." "We set out to try and change the paradigm of what it's like to be in a healthcare setting — that in some way, it might be inviting and enriching when you come to the hospital for whatever reason, whether you're working there, a visitor, or a patient," says Joanne Cohen, executive director and in-house curator at the Cleveland Clinic. And while some scholars fear that abstraction is too ambiguous for patients experiencing states of unfamiliarity, vulnerability and stress, Danish architecture and design professor Michael Mullins says that size and placement of work, colour, contrast, shapes and movement are factors just as important. While working on a recent project for a hospital in New York, the only request I received from the gallery was, "no green, no red."
Sincerely,
Sara
PS: "I am convinced that in the 21st century, culture will be what physical activity was for health in the 20th century." (Nathalie Bondil)
Esoterica: When I was about 20, the hospital in which I was born purchased some paintings for their palliative care floor. At the time, my work featured cloudless, gradated colour field skies, with kids floating and flying dreamlike above a thin strip of flat, white snow. For some time, I wondered if the paintings would be helpful or upsetting to those in hospital facing the end of life, especially when I seemed to be at the beginning of mine. Years later, I received a letter from someone who had spent many months with my paintings while saying goodbye to their loved one. Their words left me grateful and connected and honoured to be a part of such an important time. "Hopefully, it comforts." (Joanne Cohen)
The Letters: Vol. 1 and 2, narrated by Dave Genn, are available for download on Amazon, here. Proceeds of sales contribute to the production of The Painter's Keys. 
"Imagination is not a talent of some men, but is the health of every man." (Ralph Waldo Emerson)
Featured Workshop
January 15, 2020 to January 22, 2020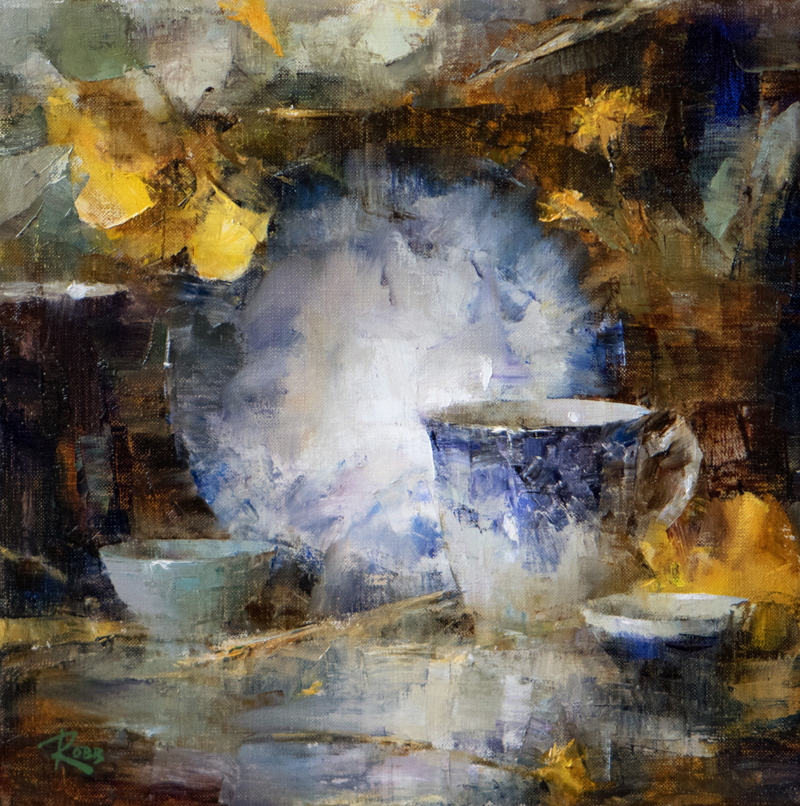 This workshop/retreat will be ideal for artists who are serious about improving their painting skills, but who also enjoy great food, terrific accommodations and a bit of adventure. The instructor has many years of experience in both teaching and painting and is dedicated to passing along her knowledge to those who are eager to learn. Small class size will insure individual attention. We will be working from life and previous experience mixing color will be necessary.
Casa Buena Art Retreat, between Puerto Vallarta and Mazatlan, is a calm and beautiful place to relax and explore your creative energy. Please check out their website for photos and detailed information about this exciting opportunity http://www.casabuenaartretreat.com/Retreat_LauraRobb.htm Non-painting travel companions are welcome too.
For more information on the instructor or to contact her, please visit http://LauraRobb.com
Featured Artist
My statement is pretty short. I love all kinds of paintings and I think Robert Genn is Canada's finest painter. A great feature of his work are his designs — so beautifully conceived.