Art Exhibition, Art Show, Art Exhibit, Art Opening
The Art Show Calendar
Let everyone know about your art show!
This is the list of current and upcoming art shows posted by our visitors. Follow this link if you would like to post your art show on this page and get exposure to many thousands of Painter's Keys visitors every day. Cost is USD$30. If you have any questions please email artshows@painterskeys.com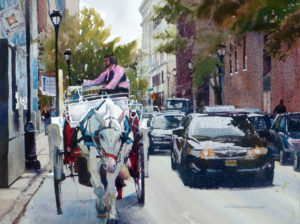 Aug 1, 2018 - Aug 31, 2018
33rd Annual Watercolor Wyoming National Show and Sale
Sheridan County Fulmer Public Library
335 W. Alger St.
Sheridan, WY 82801
The 33rd Annual Watercolor Wyoming National Juried Exhibition will showcase the talents of watercolor artists from across the United States. The show will be on display at the Sheridan Public Library in beautiful Sheridan, Wyoming during the month of August, 2018. The artists' reception and award ceremony will be Tuesday, Aug. 7, 2018. This year the juror and watercolor workshop instructor is award winning artist Kristi Grussendorf. Cash awards are given for Best of Show, Best Wyoming Artist, 1st Place, 2nd Place, 3rd Place and Honorable Mention. Show entry is open to all artists 18 years of age or older, working in water media on paper and unvarnished. Deadline for entry is June 1, 2018. The week-long workshop will be held in Sheridan Aug. 6 – 10, 2018. Membership in the Wyoming Watercolor Society is encouraged, but not required. Discounted fees for the workshop and show fees will apply for members. The prospectus, workshop information and membership form can be found at www.wyomingwatercolorsociety.com.