Dear Artist,
A lifetime ago, when I first visited the mother of a friend in upstate New York, I noticed a small watercolour, hung in the hallway on the lower level of her house. The painting was a spare tangle of chaotic but organized marks in a limited, sombre palette with flashes of yellow. Directionless but self-directed, and a jumble at first glance, it also stood independently as something quietly totemic — a miniature of a primordial rage and exaltation, and also inviting consideration as a study in colour and paucity. When I closed in to look at the signature, there, in pencil, was scrawled "Joan Mitchell." Each time I visited thereafter, I checked in with it — it became a kind of beacon of painterly independence, a casual treasure tucked amongst others in the basement of a real and independent New York woman. The thing about New York was that its myths were always revealing themselves as real; like a drip for an ailing dreamer.
Joan Mitchell was the daughter of a Chicago dermatologist and a poet — an active girl who loved diving and skating and who attended Saturday art classes at the Art Institute of Chicago. She studied art at Smith College in Massachusetts and the Art Institute, and in 1947 moved to New York, where she attended a wordy class of Hans Hofmann's but promptly left, terrified. Instead, she used a fellowship to go to France and Spain to paint. She married a prominent American publisher. When she returned to New York, she joined in with a downtown scene of fledgling ab-exers, developing a personal and surprising, to others, physicality in the form of large, unwieldy paintings. By 1951, she was exhibiting in Leo Castelli's landmark Ninth Street Show alongside Pollock, de Kooning and Hofmann. The following year, she had a solo at the New Gallery and got divorced. By the mid-fifties, Joan, while enjoying success in New York, was spending more time in France. There, she met Canadian expressionist Jean-Paul Riopelle. They fell in star-crossed love, married, set up separate homes and studios and met nightly for dinner.
Joan, who hated aesthetic labels, nevertheless lived her life under the mantle of abstract expressionism and described her work as drawn from the landscape and natural forms. "I carry my landscapes around with me," she said. She likened her work to poetry over prose, allowing composed palettes to imply a sense of consciousness to otherwise primal strokes. She referenced the aerial landscapes she saw growing up in a highrise in Chicago and the brushy colour riots she admired in the work of her favourite painter, Matisse. She preferred her sunflowers to be dying; or Van Gogh's. Even within these loose handles, Joan's paintings invite standing on their own; eschewing explanation in favour of independence from context. They are, at times, confrontational in their chaos, and also cunningly ordered. When she inherited some money after the death of her mother, Joan bought a two-acre estate in Vétheuil, near Giverny. There, a deeper pastoral spirit appeared — a Monet-esque wide-angled-ness. Where there was once a youthful stabbing of marks, tornado scribbles and sledgehammer strokes, a soft calligraphy emerged as the dominant energy. Joan lived and worked in her Vétheuil retreat from 1967 until her death in 1992.
Sincerely,
Sara
PS: "Abstract is not a style. I simply want to make a surface work." (Joan Mitchell)
Esoterica: "A painting is not part of me," said Joan. "Because when I do paint, I am not aware of myself. It is part of something else. Communication is very difficult." In this way, she detached from any urge to make a narrative of her life in her art, but rather let her paintings work independently as stand-alone pieces of aesthetic expression. "It seems very clear what it means. I can't say it but the painting makes it clear. If I don't know, then it's not working," she said. "If it seems right to me, then it has a meaning, but I can't tell you what meaning. I can't be more specific than that. It works when it means something, when I don't question it any more."
For the first time in nearly 20 years, Joan Mitchell is the subject of a major U.S. survey, at the San Francisco Museum of Modern Art. The exhibition includes over 80 canvases and is on view until January, 2022.
Have you considered a Premium Artist Listing?  With each letter, an artist is featured at the bottom of this page. The Premium Artist Listings are a means of connecting artist subscribers through their work. Proceeds from each listing contribute to the production of The Painter's Keys. 
"Painting is the only art form except still photography which is without time. Music takes time to listen to and ends, writing takes time and ends, movies end, ideas and even sculpture take time. Painting does not… It's a still place. It's like one word, one image." (Joan Mitchell)
Featured Workshop
January 23, 2022 to January 30, 2022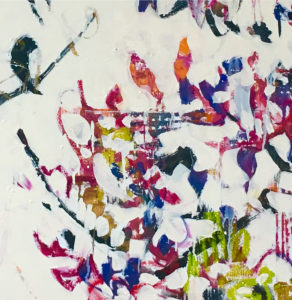 Join Ellie Harold for "Intuitive Painting: Permission to Paint Expressively," designed especially for mature women artists of all skill levels who wish to explore this medium for soulful exploration. The retreat provides attractive accommodations (your own room!) along with lightly structured activities for centering, relaxation and low stress art-making. You'll have plenty of free time to muse, paint, write and reflect while enjoying the colors, textures and flavors of San Miguel. This Retreat has the potential to transform not only your art but your life! You'll return home with a specific art "care plan" to assure support for further creating. Details at www.EllieHarold.com.
Featured Artist
We live in a fractured world. Wars, famine and power games are forcing people to abandon their homes and their way of life in hopes of finding peace. For lack of education or specialized skills, the poor are not accepted into our northern communities. They stay in the camps on the borders of turmoil, separated from local community. Animals are caught in the crossfire. Even the trees and the rocks suffer the agony of imbalance. This chaos is evident in my work. In between the rivulets of paint and the textural accidents I choose colours and forms to suggest a landscape where beauty continues to reign. We can still change the tide and build a new world harmony. Certainly, contemporary will focuses on gold instead of beauty. Yet, beauty is essential to the wellbeing of the planet. She is essential to the survival of humanity.