Dear Artist,
During the last while I've been giving my two bits worth to several would-be painters. These folks are young, well educated and talented. They want to talk about the business of making art, the possibility of going to art school, their future in art. They also check my modest brain for what I might think galleries want, price points, popular sizes, that sort of thing.
While this is all very nice, I've glazed over a few times, and frankly told one of them to paint a hundred paintings and give me a call when she does. There was a significant silence on the other end of the phone — as if it was just around the corner that I might coach creativity into her. "Think of yourself as a factory," I said. That was the end of that call.
Not many of us can be convinced that working in a factory is a lot of laughs. Being a factory may be even worse. But there's something to be said for building one and getting into it.
Artist-wannabees need to find a physical place to be. For artists who think big and lofty, an unused loft in a rust-belt town might be the choice. But a factory can also be in a corner under basement stairs, or an easel at the bottom of a garden. Factory is a mental thing.
An art factory is a place where unmarked supports enter on one side, become caressed with the physical manifestation of human imagination, and are subsequently pushed out the other side. Whether these modified supports are commercially destined or not, it's a process that needs to take place.
When the factory gets the steam up and things begin to happen, the worker becomes hooked. Also, as skills are learned, techniques defined and directions found, the place begins to look like a perpetual motion machine.
Theoretical folks don't always understand that the factory itself turns its operator back into a student. The factory becomes a school. If you like the idea of do-it-yourself learning, and you are curious about what you might be able to do, a little private factory is one fine institution. If your factory starts small and gets productive, you'll need a bigger factory. "Room service? Send up a larger room." (Groucho Marx)
Best regards,
Robert
PS: "You need a room with no view so imagination can meet memory in the dark." (Annie Dillard)
Esoterica: I often ask folks how much they like working on their own. Funnily, almost everyone says they love the idea. But when push comes to shove, many can't go long without phoning somebody, or hanging out. It's a distracting world. It may also have something to do with the interactive way kids are raised these days. Unless aspiring artists are particularly introverted or antisocial, it can be a struggle to achieve the full factory focus that creates proficiency. For some folks it only comes with maturity.
This letter was originally published as "Build the factory" on September 9, 2008.
"You can't fake quality any more than you can fake a good meal." (William S. Burroughs)
Featured Workshop
January 23, 2022 to January 30, 2022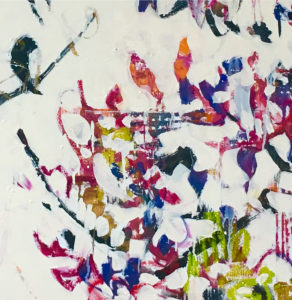 Join Ellie Harold for "Intuitive Painting: Permission to Paint Expressively," designed especially for mature women artists of all skill levels who wish to explore this medium for soulful exploration. The retreat provides attractive accommodations (your own room!) along with lightly structured activities for centering, relaxation and low stress art-making. You'll have plenty of free time to muse, paint, write and reflect while enjoying the colors, textures and flavors of San Miguel. This Retreat has the potential to transform not only your art but your life! You'll return home with a specific art "care plan" to assure support for further creating. Details at www.EllieHarold.com.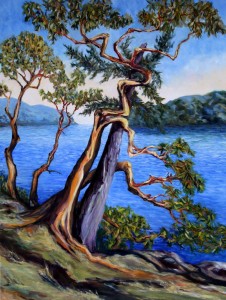 Southern Gulf Islands Afternoon 48 x 36 inch oil on canvas by Terrill Welch
Featured Artist
I am a landscape painter exposing the mystery in an ordinary day.