Dear Artist,
In the summer of 1936, 33 year-old photographer Walker Evans was invited by writer James Agee to take time off from his work with the Resettlement Administration to collaborate on a story for Fortune magazine about Alabama sharecroppers. The two set out to the tenant farms of rural Hale County and began documenting the impoverished lives of three families. Today at the Centre Pompidou in Paris, I'm staring back at Evans' most famous work — a portrait of 27-year-old Allie Mae Burroughs, mother of four and wife of Alabama cotton and corn farmer Floyd Burroughs. Evans lived for eight weeks with the Burroughs in their four-room, clapperboard cabin, rented from a landowner to whom they also relinquished half their crop yield and paid for their mules and farming tools, all their food, fertilizer, seed and medicine. Over the previous year, the Burroughs had been chipping away at a crippling debt of 200 dollars.
After Fortune rejected their story, Agee and Evans compiled their work into a book and published it in 1941. Let Us Now Praise Famous Men sold a measly 600 copies before being remaindered, though after the end of the war it emerged as a critical landmark — an unvarnished portrayal of life in the Dust Bowl. "I suppose I was interested in calling attention to something and even shocking people, though I don't think I had the purpose of improving the world," Evans said, describing how the Hale County police and landowners had watched them, suspecting at the time they might be labour organizers. "I do regard photography as an extremely difficult act," said Evans. "I believe the achievement of a work that is evocative and mysterious and, at the same time, realistic is a great one and a rare one — and perhaps sometimes almost an accident."
Let Us Now Praise Famous Men has since been noted by scholars as, and continues to feel like, art's reflection of the innovative programs designed under Roosevelt's New Deal to explore and improve the lives of American workers. "The work produced in the Depression looks like social protest," said Evans, "though it wasn't intended to be used as propaganda for any cause." Instead, he said, "I like saying what's what."
Sincerely,
Sara
PS: "It's akin to hunting, photography is. In the same way, you're using a machine and you're actually shooting something and you're shooting to kill. You get the picture you want — that's a kill. That's a bull's-eye." (Walker Evans)
Esoterica: Walker Evans was born in 1903 in St. Louis, Missouri and grew up in Toledo, Chicago and New York City as the son of an ad-man. In 1926, after dropping out of a degree in French literature, Evans went to Paris, attending classes at the Sorbonne and stalking the haunts of his literary heroes Baudelaire, Flaubert and Proust. Having collected postcards as a boy, Evans took snaps with his pocket camera of passersby, street signs, advertising, shop displays, garbage, architecture and himself. When he returned to New York, he clerked for a stockbroker while getting his photos published in magazines. In 1933 he went on assignment to Cuba where he hung out with Hemingway and documented the political regime. Between 1935 and 1938, Evans worked with the Resettlement Administration and the Farm Security Administration photographing the tenant farmers of the American south.
In 1938, the MoMA devoted its first exhibition of a single photographer to Evan's FSA work — he was 35. He later took a hidden camera into the New York City subway and captured the faces of commuters, became a staff writer for Time magazine and an editor for Fortune. In 1965, Evans took a post teaching at Yale and in 1974, when his failing health made it difficult to work with his large format cameras, he switched to shooting Polaroids. A year later, Walker Evans passed away at home in New Haven, Connecticut. "Whether he is an artist or not, the photographer is a joyous sensualist, for the simple reason that the eye traffics in feelings, not in thoughts." (Walker Evans)
Download the new audio book, The Letters: Vol. 1 and 2, narrated by Dave Genn, here. Proceeds of sales contribute to the production of The Painter's Keys.
"Stare. It is the way to educate your eye, and more. Stare, pry, listen, eavesdrop. Die knowing something. You are not here long." (Walker Evans)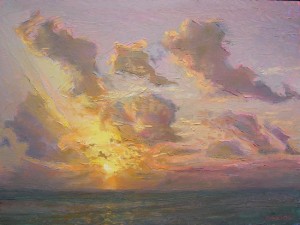 Shining Through
oil 12 x 16 inches
Featured Artist
Capturing the beauty of nature and expressing those impressions in oil paint is a joy. Every hour of the day presents new possibilities and keeps even the same landscape location, same composition, an ongoing and beckoning challenge. For this reason, I love painting series: it is exploration made visual.