Dear Artist,
Floating through the Chelsea galleries, up and down the democratic elevators, through the mysterious doors where minimalist girls, like wax figures, sit at laptops in sparse foyers and do not acknowledge your presence. Where liveried guards suspect your bag and camera, here and there there's a Burton Silverman.
Coming from a background of illustration, Silverman, an artist's artist, has found a unique place in the realist revival. To read his partly biographical The Art of Burton Silverman, you might think he's still fighting the art-wars of the sixties. He rails against what he considers the lightweight nature of modernism and wonders where his own place might be in the final tally. "I feel that much of modernist art has been involved with rudimentary formal exercises and to call it 'High Art' is a twist of irony," he says. "Portraits," he notes, "get a bad rap in museums these days." It seems to him that "for the moment only photographs of people are allowed into museums."
Burton Silverman need not worry. Long after much of modernism has floated off down the Hudson, private collectors will still be grabbing for his work. Personal, direct, human, and laced with his own idiosyncratic life-view, this stuff is simply great. The day that he stopped taking illustration jobs was the day that "the focus of my interior world intensified." Through a variety of explorations — his wife and children, Italian bicyclists, party-girls, beach-scapes, concerns of urban loneliness, separation and roadside nudity, he sets a standard for both content and craft. Light shines in his shadows and magic glows in his lights. His casual surfaces belie his toil.
Burton should simply know that quality of his sort will always be in style. While modernism is easier and faster to make, with realism, the joy of technique and proficiency enters more deeply into the mix. But in one sense modernism is just as democratic because it's accessible to all. Even kiddies fresh out of Elmo's World, with a small amount of coaching, can make creditable modern art. This is no small consideration, and it's good that this stuff is up the elevators, too.
Best regards,
Robert
PS: "My best training came from doing illustrations because it taught me to compose my paintings more effectively, to improve my colors, and to be ruthlessly selective." (Burton Silverman)
Esoterica: It's often desirable to put your detail into the shadows and burn out the detail in the brightly lit areas. Photo-based painters using Kodaky reference from contrasty subjects (such as beaches) are often unable to see shadow detail. When working from life the human iris opens automatically to peer into those shadows. For better or for worse, obscuring or neutralizing shadow areas in photo-derived paintings has become an element of style.
This letter was originally published as "Burton Silverman" on October 8, 2004.
The Letters: Vol. 1 and 2, narrated by Dave Genn, are available for download on Amazon, here. Proceeds of sales contribute to the production of The Painter's Keys.
"Artists must literally go into a zone of intense seeing so the subjective and objective almost fuse together." (Burton Silverman)
Featured Workshop
April 10, 2019 to April 17, 2019
Location: between Puerto Vallarta & Mazatlan, Mexico
Week-long workshop in gorgeous paradise retreat for beginning and intermediate students in oils (or acrylics with experience). You will learn how to create a painting with beautiful light that captures viewers' attention and keeps them fascinated. Small group size guarantees personal attention.
While you're busy creating art and exploring, your friendly hosts at Casa Buena will ensure that your stay is memorable. Outstanding accommodations, food, and field trips will satisfy your desire for both comfort and adventure. Spouses are welcome!
For more info, visit: http://www.casabuenaartretreat.com/Retreat_Carol.htm or contact Carole at: cpeirson@earthlink.net or call: 001-757-678-3340 (EST).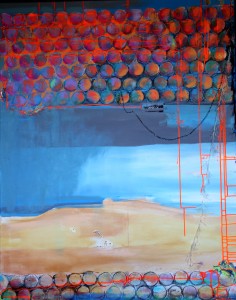 Hurricane
Featured Artist
I'm a contemporary painter who loves to travel the world over finding pictures to paint, and capture on photo…check out my website and travel with me on my blog "The Traveling Artist Blog."  http://www.meljosieart.com