Dear Artist,
After our mother tongue, colour is, perhaps, our second language. Unlike words, though, colour enters only through the eyes and, as a result, is subject to our perception by way of temporal conditions like light, atmosphere, distance, the materiality of the object, and perhaps most importantly, what's next to it. These conditions create distortions that are individual to each of us, yet we share in our experience of them and develop visceral and cerebral preferences and prejudices.
Colour's proximity to other colours especially obfuscates what we call, in painting "local colour" — the colour of an object without the effects of light and shadow, the casts of other objects, or what our eyes do when colours are grouped. When painting the landscape outdoors, for example, local colour is practically non-existent. Painters en plein air practice long looking — so they might identify the colours in nature they're actually observing, as opposed to what their brains have already told them they're seeing. In other words, snow is never white.
In my own work, the motto has been, "Never underestimate the power of an obsession." In abstraction, one must understand the mechanics of the trifecta of hue, chroma and value just as painters en plein air do before they can bring convincing life and light to a landscape. In my case, these tenets are formalized into building blocks for exploration and eye-play. I'm really just striving to achieve a sense of longing and intuitive enjoyment in looking, while removing representational touchstones. Form replaces life-objects because the eye will travel and rest on any form, if graphically sound. In representational painting, colour's colours are the backbone for creating a successful illusion of reality. Looking is the most important step. The next is mixing. Nature is the guide. Here's a reminder:
Hue: the colour.
Chroma: the intensity or saturation of the colour.
Value: the lightness or darkness of the colour.
Sincerely,
Sara
PS: "The actual basis of colour is instability. Once you accept that in lieu of something which is stable, which is form, you are dealing with something which is unstable in its basic character, you begin to get a way of dealing with it." (Bridget Riley)
Esoterica: Within these nuts and bolts, every painting's colour story will benefit from a splash of "counterpoint." Counterpoint is the big sister to "complementary" — opposites on the colour wheel which create high and low-key vibrations, mix sophisticated greys and spice up dull monochromes. Where complementaries can be used stealthily and as a colour surprise throughout a composition, think of counterpoint as an intention, built into the work by way of unexpected visual undercurrents. If you're still with me, in music, "counterpoint" is the relationship between two or more musical lines which are harmonically interdependent yet independent in rhythm and melodic contour. Its use is especially masterful in the compositions of J.S. Bach, but the device is prevalent in all kinds of art, including writing and painting. Counterpoint is different from harmony in that it doesn't ride the same line to make one harmonically sound melody, but rather weaves in and out of a dialogue, providing tension with its own voice; like a punchy sky, cut between trees. In abstraction, counterpoint can be thought of as a pulling away from obvious or resolved relationships of form and colour.  It's all in an effort to create a rhythm to looking, and to conjure a sense of pleasurable longing within opposing intensities in saturation, lightness and darkness and warm and cool associations. Personally, it's perhaps also an effort to stabilize a mutable force: to play at ordering nature while embracing its mysteries. In doing so, we can strive for a delicate joy; in the pleasure of the travelling eye, in reorganization, in preference, in separation and connection, and in togetherness.
"All colours are the friends of their neighbors and the lovers of their opposites." (Marc Chagall)
The exhibition Looking for Colour opens at Gallery Jones, 1-258 East 1st Avenue, Vancouver, BC, Canada on October 14th, 2021. If you're in the neighbourhood, I would love to see you.
Featured Workshop
January 23, 2022 to January 30, 2022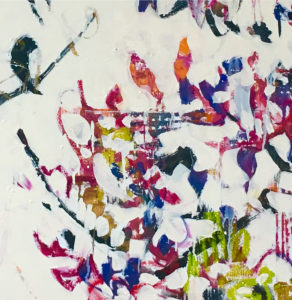 Join Ellie Harold for "Intuitive Painting: Permission to Paint Expressively," designed especially for mature women artists of all skill levels who wish to explore this medium for soulful exploration. The retreat provides attractive accommodations (your own room!) along with lightly structured activities for centering, relaxation and low stress art-making. You'll have plenty of free time to muse, paint, write and reflect while enjoying the colors, textures and flavors of San Miguel. This Retreat has the potential to transform not only your art but your life! You'll return home with a specific art "care plan" to assure support for further creating. Details at www.EllieHarold.com.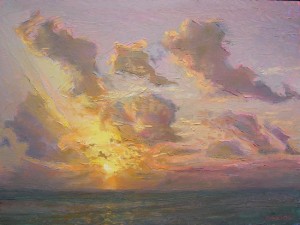 Shining Through
oil 12 x 16 inches
Featured Artist
Capturing the beauty of nature and expressing those impressions in oil paint is a joy. Every hour of the day presents new possibilities and keeps even the same landscape location, same composition, an ongoing and beckoning challenge. For this reason, I love painting series: it is exploration made visual.