Dear Artist,
In times of reasonable painting I often ask myself where my confidence comes from. Why is it that some days this goddess merely appears, seemingly unbidden, while other days I have to work hard to get a glimpse of her? What are the conditions that bring this goddess to our easels?
I'm pretty sure that in art as in love, it's the little things that mean a lot. Don't, for example, have outstanding issues with spouses, dealers, friends. I've found it vital to sit or stand at the easel, guilt free. A feeling of trust is valuable — not just trust that you can do it, but trust in yourself as a person. Funnily, or perhaps not funnily, I think that ordinary cleanliness is related. I never underestimate a good tub.
I've not made a scientific, actuarial account of these matters, but there is some anecdotal evidence that I can pass on. Confidence often arises in the morning after a day of change — doing something different from the normal studio activity. Socializing or felicitous friendship, another kind of satisfaction, gives elan to the brush. You feel worthwhile. Constant working can bring visual boredom and a jaded attitude. Pictorial scale, size of support as well as ambition are also important — being in tune with what you may be good for on a particular day. I don't know whether this is common or not, but I find if I take a bite out of several beginnings, early on, there's a feeling of hope, and I can be more focussed and confident for my day. Also, a project of set, or series, which involves some additional concentration, can go a long way toward closing out destructive impedimenta. Simultaneity also creates energy — the kind of feeling you get when listening to Moussorgsky's Pictures at an Exhibition — a physical striding between pictures that keeps the goddess flirting. On sunny days, moving outdoors for drying, long-view and life-love also adds a generosity of spirit that reinforces confidence.
In my case I know for sure that confidence has a lot to do with momentum. My goddess is attracted and kept interested by action. When I'm lethargic, distracted, or talking too much, she gets bored with me — and wanders off — perhaps to service someone else.
Best regards,
Robert
PS: "Confidence is that feeling by which the mind embarks on great and honorable courses with a sure hope and trust in itself." (Cicero) "Confidence is the hinge on the door to success." (Mary O'Hare Dumas)
Esoterica: Use anything that builds a feeling of personal power. It helps if you know what you're doing. The glow of heroism provided by certain music, even over-squeezing and unlimited supports make their contribution. Then, in a larger way there are the senses of "professional time," paradise-studio, conscious love-in-the-stroke, and the feeling of righteousness, however tenuous.
This letter was originally published as "Confidence" on August 1, 2003.
Download the new audio book, The Letters: Vol. 1 and 2, narrated by Dave Genn, here. Proceeds of sales contribute to the production of The Painter's Keys.
"I get out my work and have a show for myself before I have it publicly. I make up my own mind about it — how good or bad or indifferent it is. After that the critics can write what they please." (Georgia O'Keeffe)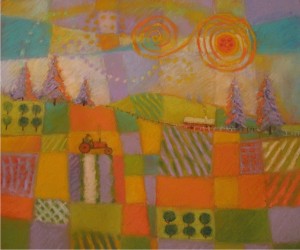 Sunrise Over the Farm #2
original pastel 15 x 15 inches
Featured Artist
Mary's interest in pastel painting began during her years at Whitworth College in Spokane, WA where she majored in art and elementary education. Though she has worked in watercolor and oil as well as calligraphy, her interest has consistently turned primarily to pastel because of the medium's potential for glowing, vibrant color and the harmony achieved in bringing together lights and shadows.