Dear Artist,
Yesterday morning, Denise called at my studio. Denise is a "vest-pocket" dealer — she works from her home and her cell-phone. Along with her goofy Doberman "Sabre" Denise always has a few paintings in her Ford Windstar. She wanted to take a look at what I was currently up to and "borrow" a couple to show a "special collector." She and Sabre did their rummaging, helped themselves to two 12 x 16s, and were gone with the wind.
Before the advent of the Industrial Revolution, home-based workers produced all manner of goods. Entrepreneurs visited spinners and weavers and took items away to be sold. Later, these familial relationships gave way to the efficiency of the factory — with the consequent social disruption — long hours of tedium, overcrowded slums, unhealthy and unsafe working conditions.
A lot of what we artists do is a flashback to the earlier cottage days. There are some advantages. Cottage work gets us off the streets and out of the towers and factories. We may choose to live a more rural and quiet life where work can be done at our own speed. We can build ourselves a sacrosanct space where there's freedom to grow. We have the joy of producing personal and relatively expensive goods that are either picked up or shipped. While we are not in the front line of commerce, there's the satisfaction of a connection with those whose talent is to share with others. A cottage creator may indulge his or her joy, put the human condition into perspective, and nurture a muse that has the potential to be of high value to mankind.
This morning Denise phoned to say that she had "struck out — the wife loved them but the husband didn't like the colours. The wife was practically in tears and said she wanted them for Christmas but that was months away and she knew they would be gone." Putting on my guru-hat I said, "People don't always give the right reasons when they say no." Denise, wondering if it might be the money, phoned the people back and told them they could have the paintings and not pay until Christmas. Bingo. Home run. Another beauty of cottage industry — flexibility.
Best regards,
Robert
PS: "I don't mind parting with the corn, but not with the field in which it was raised." (John Constable)
Esoterica: Major changes are again overtaking society. Everywhere there's the desire to become more highly realized, to be more independent, to be freer of traffic and tension. More than anything there's the desire to give from the true self, to be real, not to be used or used up. Cottage industry provides some of this. As Henry David Thoreau noted a hundred and fifty years ago, "Men have become the tools of their tools."
This letter was originally published as "Cottage industry" on April 27, 2004.
I wish each and every one of you well during this global health crisis and encourage you to flatten the curve by staying at home with your creative materials. I hope our Painter's Keys community can be a source of friendship and creative inspiration during this time and always.
In friendship, Sara 
Have you considered a Premium Artist Listing?  With each letter, an artist is featured at the bottom of this page. The Premium Artist Listings are a means of connecting artist subscribers through their work. Proceeds from each listing contribute to the production of The Painter's Keys. 
"Life has been your art. You have set yourself to music. Your days are your sonnets." (Oscar Wilde)
Featured Workshop
May 16, 2020 to May 31, 2020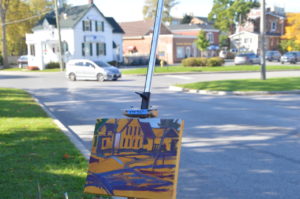 Four separate, 7-hour workshops where you will learn all the fundamentals of approaching plein air painting. You will also learn modern colour theory which makes working with a reduced palette and mixing colours a breeze. Two of these workshops are held in Markham, Ontario, the other two in Peterborough Ontario. Your instructor, Keith Thirgood, has been painting en plein air and teaching art for over 12 years. These workshops are suitable for beginners wanting to learn to paint in a fun, outdoor location, as well as more experienced studio artists who want to try plein air, plus artists who are looking to loosen up and paint in a more post-impressionist style.
Featured Artist
A professional painter in both watercolor and oil for over 35 years, I have been creating plein air workshops in Europe for artists to join me since 1996. Plein air is one of the most exciting methods of painting, and I teach a very easy to learn way of capturing the light quickly, that any artist can apply to their own work during our adventures to Europe. Travel for artists is a great way to immerse yourself in painting and make great advances in your techniques by watching other professionals work, and by sharing your own ideas with other artists we all grow! Authentic locations, such as a 12th Century Castle in Ireland, a French Maison in the countryside of France, or an Italian Villa in an historic hilltop village in Italy are carefully chosen. We want our artists and non-painting guests to feel relaxed and at home, with en-suite bedrooms, excellent chef prepared cuisine, and convenient transfers to painting and exploring locations so you can be where you want to be to create. Join me on our next exciting journey!