Dear Artist,
This morning, Rita E. Acuna of Philadelphia, PA, wrote, "I think I would have preferred not to be gifted with creativity. I had found a true soulmate. He was a pilot, a man of high intellect, who wrote the most extraordinary poetry for and about me. He could communicate and share his deepest thoughts and feelings to me. And I lost him. I was careless, my fault. So sad. I would appreciate your thoughts as to the selfishness, demands and impracticality of being creative in a practical world as it relates to the great loves of our lives."
Thanks, Rita. Good question. I don't know enough about your particular situation to know whether it was your creativity that caused your pilot to take off — but I do have a few thoughts on the dark side of creativity. Many of us are focused to such a degree that it's easy to become inconsiderate of others. After all, the sun rises and sets on us, doesn't it? Sometimes it's the "law of opposite effect" — sensitivity, believe it or not, can breed insensitivity — a rotten thing for the near and dear. Fact is, art-love competes with human love. And art-lovers can drive their significant others to drink. Serially.
The good news is that it's not either/or. Many of the successful creators that I know tend rather to keep their creativity bottled up. This way it doesn't get on others' nerves, and it may also be good for the muse. While it's all a wonderful riddle, quiet, creative action should be the main currency. This leaves plenty of time for being nice. Both personal art and human relationships can be mystical unions that exact the highest of standards.
Best regards,
Robert
PS: "The heart of creativity is an experience of the mystical union; the heart of the mystical union is an experience of creativity." (Julia Cameron)
Esoterica: Rita's cup bubbles over. "Every day I'm reborn," she writes, "because of the creative process and the use of its gifts. Every breath I take, every sight I see is a miracle to appreciate and enjoy. It renews the creative spirit that plays within my soul and being." Brilliant as this sentiment is, sometimes it's difficult for others to live with. Personally, I think it has to do with "art envy," — something I've been meaning to discuss with Sigmund Freud. It's pretty hard to beat this all-encompassing joy. "Creativity," says therapist Eric Maisel, "is the gift that keeps on giving."
This letter was originally published as "Creativity and love" on December 16, 2005.
Have you considered a Premium Artist Listing?  With each letter, an artist is featured at the bottom of this page. The Premium Artist Listings are a means of connecting artist subscribers through their work. Proceeds from each listing contribute to the production of The Painter's Keys. 
"Love is energy of life." (Robert Browning)
No Featured Workshop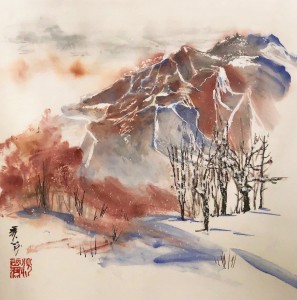 Midwinter Chill
Featured Artist
Los Angeles-based artist Lisa Chakrabarti works in a variety of media: oils, acrylics, pastels, watercolors, graphite and colored pencils. Focusing on a style she calls "romantic naturalism" – impressionism based largely on subjects in the natural world – her works have found their way into galleries in Los Angeles, Florida, Colorado and New York. In 1995, after being introduced to sumi-e and Chinese ink painting by Asian friends, Lisa became captivated by the apparent freedom and subtlety of this ancient medium.  This shift in focus has informed her work ever since.