Dear Artist,
When I left California for Vancouver in May, I had a solo show scheduled to open in the Fall and made a plan to work on it at my Mum's house. In my 30th year of painting professionally, I welcomed the opportunity to work within the limitations of our family circumstances and to be open to new painting conditions and contexts. Because the show would be in Vancouver, I was also grateful that I could paint it in my Mum's presence and be with her all the way up to the opening and beyond.
When my Mum and I realized that her condition was progressing more rapidly than her oncologist had prepared us for, I revisited old fears around my ability to produce something worthy. My Mum and I were in the throes of battling, full-time, to preserve her comfort and our precious weeks together. We also both knew we were equipped to face the pressures and heartache the experience would bring. In that regard, we felt we were going to be okay. But privately, inside, like so many people in similar situations — those afforded the privilege to take time to be with their loved ones, anyway — I worried about my work.
Soon, something happened. My Mum and I, already in a life-long rhythm, now paced ourselves in a kind of stopped time. What, for a less-experienced me, could have risen into a mountain of self-doubt, appeared instead as a solace to the ever-building heartbreak. I moved my work from the studio upstairs onto the dining room table, under a north-facing picture window and my Mum's own personal, party-animal hummingbirds. I listened to her sleeping in her bedroom, next door. As I dipped my brush, more measured – calmed – and pushed into the linen, it gushed over me like an opened floodgate: "This pressure is not a distraction, a hindrance, an intrusion, or menace to the greater and more important life experience of caring for my Mum. It is, rather, an answer and companion to this moment."
Sincerely,
Sara
PS: "Art cannot be above the battle." (Howard Taubman)
Esoterica: Acute vulnerability, its own pandemic, and guaranteed in life, is a time to make art. My big brother, Dave, on Level 10 of work and parenting, visited us every few days. When he opened the front door and saw the spread of work that had made its way down from the upper floor, I heard an audible gasp of relief. It was perhaps, for him, the universe righting itself ever so slightly, amidst our collective and staggering disorientation. The gift of art had taken its rightful place as N on the compass, in the most intimate of settings, as a comfort and practice of devotion and hope. Now, back in my studio in Palm Springs, both grieving and loving, painting is a productive point of focus and life meaning. I willingly plug myself into the nourishment of this creativity machine — a thing into which I pour all of my care and feelings. Out comes something which strives to be beautiful. I willingly plug myself into this gift to my life; nurtured by my Mother's ardent and lifelong support. "Art is a form of love. Art is the ultimate gift. Art heals life." (Robert Genn)
The exhibition Looking for Colour opens at Gallery Jones, 1-258 East 1st Avenue, Vancouver, BC, Canada this Thursday, October 14th, 2021. If you're in the neighbourhood, I would love to see you. 
"In your light I learn how to love. / In your beauty, how to make poems. / You dance inside my chest, where no one sees you, / But sometimes I do, and that sight becomes this art." (Rumi)
Featured Workshop
January 23, 2022 to January 30, 2022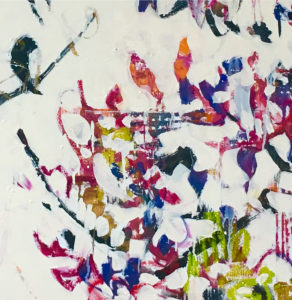 Join Ellie Harold for "Intuitive Painting: Permission to Paint Expressively," designed especially for mature women artists of all skill levels who wish to explore this medium for soulful exploration. The retreat provides attractive accommodations (your own room!) along with lightly structured activities for centering, relaxation and low stress art-making. You'll have plenty of free time to muse, paint, write and reflect while enjoying the colors, textures and flavors of San Miguel. This Retreat has the potential to transform not only your art but your life! You'll return home with a specific art "care plan" to assure support for further creating. Details at www.EllieHarold.com.
Featured Artist
A professional painter in both watercolor and oil for over 35 years, I have been creating plein air workshops in Europe for artists to join me since 1996. Plein air is one of the most exciting methods of painting, and I teach a very easy to learn way of capturing the light quickly, that any artist can apply to their own work during our adventures to Europe. Travel for artists is a great way to immerse yourself in painting and make great advances in your techniques by watching other professionals work, and by sharing your own ideas with other artists we all grow! Authentic locations, such as a 12th Century Castle in Ireland, a French Maison in the countryside of France, or an Italian Villa in an historic hilltop village in Italy are carefully chosen. We want our artists and non-painting guests to feel relaxed and at home, with en-suite bedrooms, excellent chef prepared cuisine, and convenient transfers to painting and exploring locations so you can be where you want to be to create. Join me on our next exciting journey!