Dear Artist,
A new study at the University of Graz in Austria is attempting to bust culture-spanning myths about creativity. Professor of psychology Mathias Benedek and his team first surveyed people from diverse backgrounds to find out what they believed creativity was. They then compiled four groups of widespread misbeliefs.
The first group of myths involves the very definition of creativity, surmising that it cannot be measured, that it's basically the same as art, that creative ideas are inherently a good thing and that most people can't distinguish the difference between abstract art from children's drawings. Basically, amongst the people surveyed anyway, creativity is a mysterious talent bestowed upon a few special people with its products' value highly subjective.
The second group of myths deals with the creative process. Zeroing in on misconceptions surrounding the creative impulse, those surveyed answered true or false to questions around how creative accomplishments are usually the result of a flash of inspiration, that creative thinking belongs almost exclusively to right brainers and is summoned by lone wolves in the privacy of their studios. Work, it seems, doesn't really factor into it.
The third group of myths examines the creative person; a unicorn who possesses a rare gift and burden. This unicorn's special talent is not easily developed or diminished, and it flourished most when she was a child. She's simply exceptional. As a result, she's also more prone to mental health challenges.
The last group of myths centers around creative stimulation, including the use of drugs and alcohol. Apparently, to many, the doors of perception are still very much installed, and gate-kept by the altered state. Other beliefs around process include the attitude that too much school kills imagination, that group brainstorming generates more ideas than what individuals alone can muster and that total freedom of movement, expression, materials and behavior are the best route to a creative life.
While preserving a delicious mystique and supporting many components of the living organism called "art," Professor Benedek and his team say this magical thinking approach around creativity in general — is problematic. Correlating it with getting into a childlike state just diminishes the sweat and commitment creative achievement requires. Also, holding onto the myth of "waiting for the muse" cripples the would-be artist and undermines the agency and personal responsibility needed to get to work. Work is unglamourous and unspecial. These hard yards are the unvarnished truth behind how our creativity appears before our eyes, magicless. Why can some just do it, and others not get started?
Sincerely,
Sara
PS: "Create like a god, command like a king, work like a slave." (Constantin Brancusi)
"It is the tension between creativity and skepticism that has produced the stunning and unexpected findings of science." (Carl Sagan)
Esoterica: "Creativity is merely a plus name for regular activity," wrote John Updike. "Any activity becomes creative when the doer cares about doing it right, or better." With this in mind, embrace the notion that all movements are creative ones, and all actions, when infused with thoughtfulness, are pointing in the direction of new thought, new solutions, and the advancement of the artform that is life, lifemanship, craft and human expression. In our tiny corner of the universe, this may look like what my Dad called, "brush-pushing." Pick up the brush. At my easel, brush-pushing is a salve for the rigor, heartache, plodding and ecstasy of life. It is the simplest form of prayer, not possible without first picking up the tools necessary to practise the devotion. "To create a little flower is the labour of ages." (William Blake)
Have you considered a Premium Artist Listing?  With each letter, an artist is featured at the bottom of this page. The Premium Artist Listings are a means of connecting artist subscribers through their work. Proceeds from each listing contribute to the production of The Painter's Keys. 
"The creative personality never remains fixed on the first world it discovers. It never resigns itself to anything." (Anais Nin)
Featured Workshop
January 23, 2022 to January 30, 2022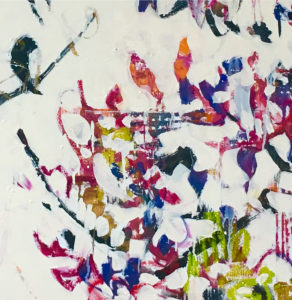 Join Ellie Harold for "Intuitive Painting: Permission to Paint Expressively," designed especially for mature women artists of all skill levels who wish to explore this medium for soulful exploration. The retreat provides attractive accommodations (your own room!) along with lightly structured activities for centering, relaxation and low stress art-making. You'll have plenty of free time to muse, paint, write and reflect while enjoying the colors, textures and flavors of San Miguel. This Retreat has the potential to transform not only your art but your life! You'll return home with a specific art "care plan" to assure support for further creating. Details at www.EllieHarold.com.
Featured Artist
A professional painter in both watercolor and oil for over 35 years, I have been creating plein air workshops in Europe for artists to join me since 1996. Plein air is one of the most exciting methods of painting, and I teach a very easy to learn way of capturing the light quickly, that any artist can apply to their own work during our adventures to Europe. Travel for artists is a great way to immerse yourself in painting and make great advances in your techniques by watching other professionals work, and by sharing your own ideas with other artists we all grow! Authentic locations, such as a 12th Century Castle in Ireland, a French Maison in the countryside of France, or an Italian Villa in an historic hilltop village in Italy are carefully chosen. We want our artists and non-painting guests to feel relaxed and at home, with en-suite bedrooms, excellent chef prepared cuisine, and convenient transfers to painting and exploring locations so you can be where you want to be to create. Join me on our next exciting journey!