Dear Artist,
Peter Newton of Norwich, UK, wrote, "What do I need to do to make my website look professional?" For Peter, an upcoming exhibition has moved this backburner project to the fore. In some circles, social media has made an artist's own website almost irrelevant — and data shows that these hubs are mostly where people direct their eyeballs. Also, pay-to-play selling platforms will aggregate your work with others and serve it up in an online superstore, plus take care of the advertising and sales transactions. Does a free-standing artist's website even matter anymore? Is it worth it, to go to the trouble, time and expense, especially if one is not technologically inclined?
Currently, there are two reasons to still have a website. The first is a matter of existence: a dedicated online portfolio of recent work not only lets the curious find you, but plants a flag of personal, creative stakeholding outside the walls of your studio. You'll need a URL that is your name. Then, a curated selection of recent artwork and your CV. That is all. If you're already on other platforms or social media, think of your site as a special place dedicated solely to your creative and professional endeavour. "Dress for the job you want," wrote Austin Kleon. The second reason to have a website is for conducting business. If you're showing, list your shows. If you're building a mailing list, there are plug-and-play add-ons for doing just that. If you're working with galleries, your site should direct visitors to them. And if you are selling directly, you can add a link, or inquiry form, or even a shopping plug-in, to help with transactions.
If you're an artist, looks should matter. It surprises me how many artists' websites do not reflect the hard-won aesthetics of their work. When it comes to professional-looking ones, design is important, and when it comes to design, it should be labouring on your behalf, behind the scenes. Visitors want to get information in less than a minute. Keep it simple: black backgrounds, cursive fonts, flashing things, too many links, and too much work stand in the way of someone learning quickly what you're about. Let your art shine. This is your chance to completely control the presentation of what you do. Choose a clean template. Feature one or two inspiring images: an installation, your studio, your work in situ. Keep it current. If you're stumped, take a page from artists' sites you admire. The biggest hint I can give you is that next to a simple, functioning design, the greatest determiner of the success of your site is going to be the quality of your work, and your photographs of your work. Both take time and practice.
Your website need not be complicated, time consuming, expensive or exhausting to maintain. My site costs eight dollars a month, I can update it myself without knowing how to code, and I refer inquiries to my galleries. I try to think of it like my paintings; a rather analogue-style, work in progress. How does one define a successful site? For me, it involves a positive response by way of a spark of curiosity to know more. After years of observation, I've chalked up the frequency of inquiries to an improvement in my work and then a simple site that works in concert with other professional efforts, one that does not bamboozle with too much cleverness, but instead cares to strive for the same qualities and vibe I am trying for in my paintings.
Sincerely,
Sara
PS: "Dreams come true; without that possibility, nature would not incite us to have them." (John Updike)
Esoterica: "Some websites, of course contain art that is substandard and any amount of smoke and mirrors won't make them the dream machines that their owners desire," wrote my Dad on the subject, in 2003. And so, the main object is to make good work. The role of the website is to provide a place to experience this good work when it's not possible to see it in person, and for those who care to be able to check in on what my Dad used to call "the universe unfolding as it should." Building this online world does require a little commitment and effort. It is never too late, or too early, to plant your flag. "We are what we repeatedly do," wrote Aristotle. "Excellence, then, is not an act, but a habit."
Have you considered a Premium Artist Listing?  With each letter, an artist is featured at the bottom of this page. The Premium Artist Listings are a means of connecting artist subscribers through their work. Proceeds from each listing contribute to the production of The Painter's Keys. 
"Quality is never an accident; it is always the result of intelligent effort." (John Ruskin)
Featured Workshop
January 23, 2022 to January 30, 2022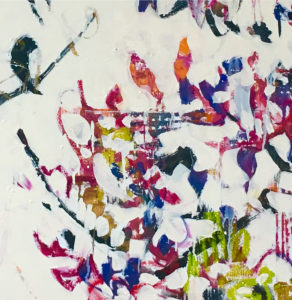 Join Ellie Harold for "Intuitive Painting: Permission to Paint Expressively," designed especially for mature women artists of all skill levels who wish to explore this medium for soulful exploration. The retreat provides attractive accommodations (your own room!) along with lightly structured activities for centering, relaxation and low stress art-making. You'll have plenty of free time to muse, paint, write and reflect while enjoying the colors, textures and flavors of San Miguel. This Retreat has the potential to transform not only your art but your life! You'll return home with a specific art "care plan" to assure support for further creating. Details at www.EllieHarold.com.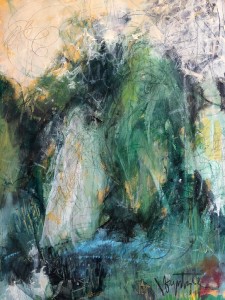 The 23rd Psalm, 2019
30 x 24 inches
Featured Artist
I grew up on a farm in Ohio, and that experience gave me a love of nature and the seasons and a deep belief in personal independence, as well as a love of experimentation. These have been the foundations of my work as a painter. I believe that learning in art or any subject is lifelong, and that the most important lessons we learn are through our personal interests and experimentation. After my husband's death in 2018, I visited Israel the next year, and was inspired by the amazing landscape colors, and especially the old city of Jerusalem, with its crumbling walls, and its deep religious importance. I found my way out of grief by painting the Eight Gates of the old city.