Dear Artist,
Yesterday, Diana Miller-Pierce of Fort Wayne, Indiana wrote, "As a professional artist and practicing psychotherapist I'm particularly interested in the healing aspects of art. I hear from my clients a yearning to create in some manner. I'm wondering if in creativity they might experience the healing they need. Art therapy seems to me to have the potential to be the most powerful and far-reaching work. What's your take on art as therapy?"
Thanks for that, Diana. "Art therapy" is a professional vocation that can exorcise a variety of devils as well as give a person a sense of self-worth. World wide, there are more than 7000 registered and practicing art therapists. There seems to be job opportunities in the field. "Art as therapy" presents another picture, but as usual, the edges are smudged.
A great deal of the art produced in art therapy is what I call "unfettered" art — that is it's a free association "anything goes" art that attempts to do the same job as free journaling. While a matter of degree and open to exception, professional and serious artists are more likely to be "fettered." They produce art that has norms of technique, standards and chemistry. This art is loaded with challenges that can produce a relatively benign form of stress. At the same time, art-making not only fills up the senses, but a few corners of the cortex as well. Furthermore, art carries one of the most deep-seated psychological values — birthing. Every work of art is a new offspring pushed out into the world as permanent evidence of personal fecundity. Don't kid yourself, we're into serious stuff here. A form of "creation therapy," the making of art tunes into the natural unfolding of our universe. Creation therapy, whether understood by the artist or not, is one of the reasons why artists are some of the sanest folks around.
Art is a course in personal development that has no reliable diploma and no known end. The pursuit of art instructs in beauty as well as ugliness, fantasy as well as common sense. Art levels souls and baffles brains. Art softens pain because it is pain. Art gives joy because it is joy. Art is a form of love. Art is the ultimate gift. Art heals life.
Best regards,
Robert
PS: "Art is therapeutic for the audience as well as the artist." (Bonnie Sherr Klein)
Esoterica: The American Art Therapy Association (AATA) is dedicated to the idea that the creative process and art-making are healing and life enhancing. Founded in 1969, AATA is a not-for-profit organization of 4,750 professionals and students. They establish standards for art therapy education, ethics, and practice. AATA committees work on professional and educational development, national and regional symposia, publications, governmental affairs, public awareness and research. 
"I hope my work provides inspiration for a person to do today what they couldn't do yesterday, no matter what it is. That's art." (Noah Purifoy) 
This letter was originally published as "How art heals" on May 7, 2004.
Have you considered a Premium Artist Listing?  With each letter, an artist is featured at the bottom of this page. The Premium Artist Listings are a means of connecting artist subscribers through their work. Proceeds from each listing contribute to the production of The Painter's Keys. 
"I do not wish to be an artist. I only wish that art enables me to be." (Noah Purifoy)
"Junk art, assemblage art… it's as close to human existence because it's all the castoffs we are utilizing here. I won't say that assemblage art is much like life itself, but it's closer to existence than any other art form. Because it's your shit that we're remodeling… and you got rid of it." (Noah Purifoy)
Featured Workshop
July 31, 2020 to August 5, 2020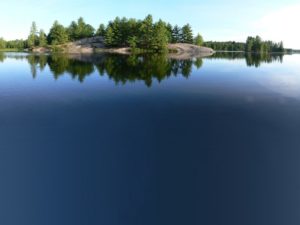 This retreat is an homage to early pioneers of plein air painting. We canoe-in and camp, paddling every day to our painting locations. This is a self-catered trip. We provide the canoes, life jackets and instruction. You bring your own provisions, tents, etc. The scenery in Kawartha Highlands is fantastic. Bald rock faces, sparkling lakes, majestic trees. Every direction you turn is another painting. Your instructor, Keith Thirgood, has been camping and canoeing all his life, and teaching artists his own unique approach to painting for over 12 years. Learn how to find order in the chaos, control your colours and create paintings that work. Learn modern colour theory, values, shapes and lines, what makes for a good painting.
If you need advice on the camping portion of the retreat, we have you supported. Even brand new canoeists have no trouble with this gentle adventure. This retreat is suitable for beginners wanting to learn to paint in a fun, outdoor location, as well as more experienced studio artists who want to try plein air, plus artists who are looking to loosen up and paint in a more post-impressionist style. To find out more and register, please visit 
www.wilsonstreetstudios.com
Featured Artist
My aim as a painter is to bring to life a slice of the world as I experience it. Light, color and form are my vocabulary.