Dear Artist,
"Because nearly all good ideas are based on others that came before them, clothing that resembles a vintage style or an earlier design may be praised as "smartly referential," wrote Ezra Marcus recently for the New York Times. "Stray too close to copying an idea, and you have created a knockoff." Worse than this is the deliberate crime of counterfeiting, when "sellers copy not just a brand's style but impersonate its identity — replicating its logos, tags or trademarked designs in order to market a fake as the real deal." Brands, at times, have resorted to trademarking gimmicks in an effort to differentiate and elevate otherwise generic items into luxury goods. Celebrity endorsements and acclaim from fashion editors provide the argument for specialness, helping a sneaker out. But "only those with no memory," said Coco Chanel, "insist on their originality."
Marcus examines the 1,500 trademark infringement lawsuits filed in recent years by hot streetwear brand Off-White. In art, the fine line between the "smartly referential" and "knockoff" can be similarly vexing, though the lawsuits are far less frequent — perhaps it has something to do with the wide berth artists grant one another amidst our collective grasping at greatness. We are all working, ideally — many of us without reward — towards the advancement of the artform, and the ideas and influences we all revere. Or are we?
Looking at art on social media, I've noticed a lazy homogeneity. The place is actually lousy with "borrowing"; not just of ideas with regard to composition, style, technique and hard-won methodologies, but of those little, personal details that define an artist's identity, like presentation, palette, process and context. I've even noticed the lifting of artist's statements and reported studio habits.
Perhaps it's a kind of innocent, collective creative consciousness that has always existed. Take, for example, the first time I visited the Art Gallery of New South Wales and drooled over a new world of excellent artists, painting similarly to the Europeans of their era, but who were virtual unknowns outside of Australia. Were these artists in isolation, picking up on global frequencies of impressionist landscape and modernism, simultaneously exploring what was possible from within the relative vacuums of their antipodean studios? Or was something else afoot — perhaps a voyager who studied abroad and brought back the fire stick of a trailblazer? Who had the idea first? Is there such a thing? Does it matter?
Today, we enjoy unfettered access to one another's work by way of the information highway, where it can be tempting to fast-track our own creative and professional hardscrabble with the hard-won processes of another. Does this work and presentation ring hollow due to a borrowed origin? Or are they less recognizable as pastiches as we grow accustomed to a saturated, diluted, derivative and broad market of images? Let's face it: we all have influences. And it's hard work to be original. You must burn to stride into the unknown and advance what has come before you, nevermind to discover what hasn't yet been seen. We all stand on the shoulders of the innovations of our forebears. When we recognize that our every stroke carries with it someone else's previous idea, we may be taking the first step in eschewing the impulse to simply make a knockoff.
Sincerely,
Sara
PS: "All has not been said and never will be." (Samuel Beckett)
Esoterica: I've noticed that there's a tendency amongst painters who look too often at one another to congeal into a homogeneous glob. And there's the studio assistant or mentee who becomes too intimate with the processes of their mentor and simply slips into production of the same, with a new signature. Masters, if not careful, create clones. Originality, on the other hand, begins with the ability to think independently and creatively. How do you do that? It requires a conscious unshackling from the zeitgeist and therefore the groupthink of social media, school, art groups and other sources, and the deliberate rejection of the techniques and processes of nearby travellers. If you think you might be leaning too heavily on the voices of others, try referencing exclusively from a medium outside of your own for at least three months. For a painter, for example, try reading. Make your own images from the inspiration of a more distant star. Grow, work, steer and innovate with care and also wild abandon. The road less travelled will in time, deliver your own authentic discoveries. "Love art, love yourself, do what you have to do and what only you can do," wrote Roberta Smith. "Utter honesty is the only path to originality."
Have you considered a Premium Artist Listing?  With each letter, an artist is featured at the bottom of this page. The Premium Artist Listings are a means of connecting artist subscribers through their work. Proceeds from each listing contribute to the production of The Painter's Keys. 
"What the world calls originality is only an unaccustomed method of tickling it." (George Bernard Shaw)
Featured Workshop
January 23, 2022 to January 30, 2022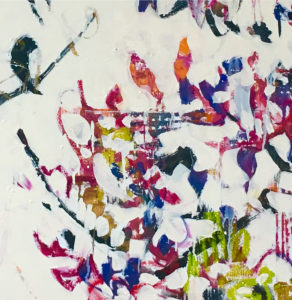 Join Ellie Harold for "Intuitive Painting: Permission to Paint Expressively," designed especially for mature women artists of all skill levels who wish to explore this medium for soulful exploration. The retreat provides attractive accommodations (your own room!) along with lightly structured activities for centering, relaxation and low stress art-making. You'll have plenty of free time to muse, paint, write and reflect while enjoying the colors, textures and flavors of San Miguel. This Retreat has the potential to transform not only your art but your life! You'll return home with a specific art "care plan" to assure support for further creating. Details at www.EllieHarold.com.
Featured Artist
Whether it's with paintings of musical instruments and their owners or a series about trees or through the many commissions I've painted over the years,
it is magic to watch paintings evolve as the lines, shapes and colors influence each other, even changing the mood of entire compositions while touching the edge of a canvas or crossing over and under or bumping into each other subtly or with a bang.
Above all, I want  each of my paintings to take me on a trip and give me something new to discover with each visit.