Dear Artist,
With all the current running off to get things juried and critiqued by others, self-critiquing might seem an unpopular sport. It isn't. The acquired ability to critique oneself is the fuse of great art and the silver bullet of the pros. While all artists work differently, here are a few thoughts:
Quality develops when the artist and the critic are honed into a functioning co-op within the same skull. The "ritual" is to pry the artist away from the critic. The artist can be flamboyant, egocentric and prejudiced. The critic needs to be patient, humble and strict. A split personality may be the price you have to pay to see your work through fresh, unsullied eyes. The operation doesn't hurt — much.
Divorcing yourself from the preciousness of your efforts and seeing your work as it really is takes time and mileage. This means "alone time" in your working area. I'm sorry, but my observation has been that no quality work or strong direction will arise in environments where consultants are readily available.
On the other hand, a valuable ploy is to constantly upgrade and rethink standards of excellence, most often done through books and other media. This doesn't mean your style will be influenced by the exposure, but rather you may improve by association with those you admire. "You're only as good as the company you keep," goes the time-honoured expression. The mere act of holding onto great works or seeing them in museums magically transfers a sense of timelessness and creative soul. Fact is, you will not generally improve by misguided staring at your own efforts.
Not surprisingly, when you switch from creation mode to critique mode, you tend to lose the magic of inspiration and substitute a more pedestrian, mechanical approach. A checklist is valuable. In serious sobriety you need to write and follow your own list. I use a series of varying questions: Meaningful subject? Strong patterns? Middle tones? Interlocking gradations? General gradations? Echoing shapes? Flowing design? Alluring counterpoint? Lost and found? Focal point? Big and small? Overall simplicity? Complex shapes? Visual depth? Interesting surface? Arial perspective? Sophisticated colour? Natural believability? What could be?
Best regards,
Robert
PS: "Think of and look at your work as though it were done by your enemy. If you look at it to admire it, you are lost." (Samuel Butler)
Esoterica: Critical intuition can also be enhanced by minor substance abuse. Cigars and Scotch have been my traditional choices. Since giving up smoking, I've begun to note the critical value of alcohol. "In vino veritas" (In wine there is truth), said Plato. More recently, I've been stalking errors by merely putting on another hat. Right now I'm using an Australian Akubra that makes me feel like an antipodean crocodile wrestler. On and off it goes, sometimes several times an hour.
This letter was originally published as "How to critique yourself" on November 18, 2011.
The Letters: Vol. 1 and 2, narrated by Dave Genn, are available for download on Amazon, here. Proceeds of sales contribute to the production of The Painter's Keys. 
"I do know, for most of us, the very best of times are when you're in your own space sweating, trying to squeeze quality out of imperfect capabilities." (Robert Genn)
Featured Workshop
June 25, 2019 to June 28, 2019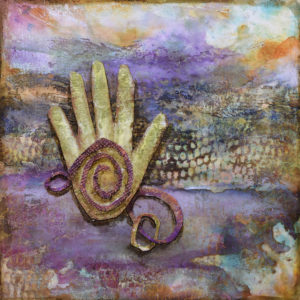 I love texture and ancient organic ones are the best. Think of metals with gorgeous patinas like copper, rusted metals, crackled surfaces with gloss and grit too. Now we will learn how to apply them to any surface. We'll put them on fabric, paper, plastic and panels. We will explore materials that are sourced from unusual places such as the home improvement store, the fabric store, the kitchen and the office supply store. I will share how to use acrylic gels, pastes and mediums to expand your texture vocabulary while saving tons of money on paints. Color is my thing and I will give you the three best tips for creating vibrant colors. Learn how to create mood using composition and values and find the narrative within the abstract forms. We begin with playful exercises that will free your creative soul to explore new directions into abstract reasoning.
https://ptschoolofthearts.org/
Featured Artist
Christine Hanlon, whose work has been compared to that of Edward Hopper, creates 'urban landscapes which quietly exude atmosphere.'