Dear Artist,
An artist wrote, "As someone who's always organized, I long to break free in my paintings. I wonder if it's in me to be wild and unstructured in this one area of my life. Do others deal with this dilemma? Is it a case of, 'how you do one thing is how you do everything?'"
Thanks. Picasso had his multiple women and periods; Bacon, his hoarder studio and brushwork; and O'Keeffe her monastic Ghost Ranch from which to capture the emptiness of the New Mexico sky. Think of these connections as an overarching, personal spirit exaggerated in a few choice areas, rather than a dogmatic rule of sameness stroked on with a big, limiting brush. Outliers are possible. My dad wasn't much for putting the caps back on his paint tubes and might have been smothered by a pile of books and yogurt cups if not for the TLC of my mother. His work, on the other hand, spoke to polish, often marked by the pin-perfect finishing of a number 6 sable. A longtime mystery, his secret was revealed to me one summer while I was flicking and flailing all over a lap canvas in the deep ranges of the Rocky Mountains. He looked over my shoulder and said, "Try to choose at least one area to be neat." Through a channelling of care, he was a rock of a parent, ran a tickity-boo business and in life, like in his work, took the time to be tender. In fact, all areas of his life carried the élan of his paintings — he just happened to be doing it in the pants of a hobo, with the help of a raggamuffin dog.
The secret is to do it your way. Button up, go feral or make a productive mix. Let your sweet spot find you. The Chief Technical Officer of a Fortune 500 recently asked me to meet her on the tarmac at Burning Man for a week of unwashed, hemp-crunching counter culture. Her idea of a palate cleanse was to drop the shackles of boss life and set stuff alight. For artists, such extremes may or may not be necessary. Perhaps, instead, the artist's prerogative is to save her most unfettered impulses for the canvas. From there, she can always choose at least one area to try to be neat — or not.
Sincerely,
Sara
PS: "I believe in deeply ordered chaos." (Francis Bacon)
Esoterica: Claude Monet — gardening in life and paint, flanked by kids, cultivating other artists — got progressively looser as he aged. His octogenarian water lilies, aided by cataracts and a very long brush, peaked as an inspired interior window, revealing the mastery of a technician. I used to tease my Dad that, like Monet, he was heading towards his most avant garde decade, when the cares of the world would soften and his wisdom could articulate through rabidly lucid and poetic focus. While my dad and his paintings were denied their eighties, their unique complexities remain in the carefree, polished and paradoxical strokes of a total, human package.
The Letters: Vol. 1 and 2, narrated by Dave Genn, are now available for download on Amazon, here. Proceeds of sales contribute to the production of The Painter's Keys.
"A week ago it was the mountains I thought the most wonderful, and today it's the plains. I guess it's the feeling of bigness in both that carries me away." (Georgia O'Keeffe)
Featured Workshop
September 1, 2018 to September 6, 2018
Killarney is a special place to paint. Huge granite cliffs, sparkling lakes, near North forests. There are no roads. We take a stable pontoon boat to all painting locations.
Keith is a post-impressionist painter and teaches compositional fundamentals, how to bring order out of the chaos of a live scene when painting en plein air, plus how modern colour theory can make colour mixing easy.
For more information, visit:
http://www.wilsonstreetstudios.com/retreats-2018.html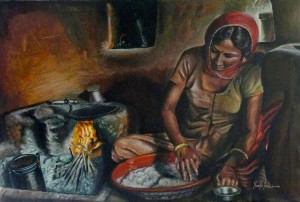 Woman preparing chappaathi
oil painting
Featured Artist
I, Ramya Sadasivam, have been practicing art since 2006. I so love to portray Indian culture, customs, day to day chores of the hard-working laborers, happy village life and life of women. I love to capture the difference in values between the shadows and bright light and also I like to capture genuine emotion.