Dear Artist,
Last week Molly VanZant of Lexington, Kentucky wrote, "I'm an artist at the beginning of my journey toward a well-made watercolour. Recently, I took down some paintings stashed on the top of my cupboard and ruthlessly consigned about half of them to the trash. Mostly, it was easy to tell which ones to get rid of. Then I wondered if I'm too close to my own work to see its merit? Am I needlessly abandoning things that others might see value in one day? Or is it good to purge?"
Thanks, Molly. You're right on top of one of the main areas where beginning (and many advanced) artists fall down. Hope springs eternal that our work is professional or getting pretty close. At the beginning of a career, professionalism is possible, but not likely. Hope is a frailty of the human mind that needs to be tempered with reality. Hope is not a strategy. Purging must come from within, from your own calculated powers of discrimination, which should have nothing to do with what "others might see value in one day."
Here's how to purge: As you're going through your work, put it beside the work of masters you admire. An illustration in a book, a cherished poster, or an online discovery will help you make up your mind. Think about it — if you want to make your work look really good, put it beside the lousiest thing you can find. Use your own best work as a guide. Find work in your own portfolio that really pleases you and compare it to the suspect work. If you're still unsure, use the "three bins" technique — "in," "out" and "maybe." A second pass on maybe will often tip the bin. Ask yourself if it might be just a small part of a picture that's bothering you. This is where the scissors or box-cutter knife come in. A poorly-painted, amateurish area or a disparate element can be knifed away, leaving a work of diminished size but finer nature. Sit beside a cheery fireplace on a cool October night and feed the flames. Scotch helps. Those flames are hungry for your poorer efforts and, while the loss of them may be at first painful to you, the lick and wither of their demise will be your cathartic event.
Best regards,
Robert
PS: "We must embrace pain and burn it as fuel for our journey." (Kenji Miyazawa)
Esoterica: "When a picture isn't realized," said Paul Cezanne, "you pitch it in the fire and start another." Trouble is, we don't always know it's unrealized while we're working on it. This is because we're still in the hope/ optimism/ self-delusion stage. This stage must not carry over into the discriminating self-critiquing stage. Paintings don't just go bad like fruit left in a cupboard–they were already rotten when they were put in. We just can't see it at the time. "Ignis reddit," said Kjerkius Gennius (36 BC) "Fire restores."
This letter was originally published as "How to purge" on October 23, 2012.
Have you considered a Premium Artist Listing?  With each letter, an artist is featured at the bottom of this page. The Premium Artist Listings are a means of connecting artist subscribers through their work. Proceeds from each listing contribute to the production of The Painter's Keys. 
"You can't fake quality any more than you can fake a good meal." (William S. Burroughs)
Featured Workshop
January 23, 2022 to January 30, 2022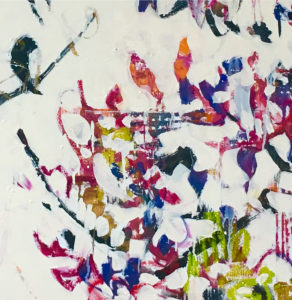 Join Ellie Harold for "Intuitive Painting: Permission to Paint Expressively," designed especially for mature women artists of all skill levels who wish to explore this medium for soulful exploration. The retreat provides attractive accommodations (your own room!) along with lightly structured activities for centering, relaxation and low stress art-making. You'll have plenty of free time to muse, paint, write and reflect while enjoying the colors, textures and flavors of San Miguel. This Retreat has the potential to transform not only your art but your life! You'll return home with a specific art "care plan" to assure support for further creating. Details at www.EllieHarold.com.
Featured Artist
My statement is pretty short. I love all kinds of paintings and I think Robert Genn is Canada's finest painter. A great feature of his work are his designs — so beautifully conceived.