Dear Artist,
Some people think she's crazy. She's a bronco-busting, motorcycle-riding, video-making, sky-diving, giant-picture-painting kind of girl. She makes loud noises in social situations. "Man, look at that tree," she shouts. She can laugh like a logger and giggle like a baby. She disappears from view for long periods of time — nobody knows where she is.
Zoe has what appears to be irrational exuberance as well as private enthusiasm. No grass grows between her feet. She moves too fast for passersby to even pick at her lint. Affected? I'm not sure — but she does come from a long line of sobersides.
Zoe's energy focuses right down to the tip of her brush. While she has not always been a professional, she is now. Her overt craziness is the flip side of a serious passion. As long as I've known her she has been able to face down fears and reversals. She's both a worker and a dreamer. She goes for the bull's eyes that she sets up for herself. When she misses, she laughs out loud.
In degree there's a Zoe in all of us. A quiet smile — seeing the silly side. It may be a tell-tale for the right-brain, left-brain yin-yang. Humour sees incongruity and makes inappropriate connections. Humor takes imagination — a jump from the ordinary to the extraordinary. That's art. It's Picasso's bull made out of bicycle parts. It's Marcel Duchamp's sculpture "Fountain," made out of a urinal. It's Georgia O'Keeffe's iris petals, Turner's magical light, Monet's shimmering water-lilies, Gauguin's red skies, Dali's moustache. It's the transformation of commonplace reality into individualist personality. Video-makers like Zoe know that invention is the mother of invention. Motorcyclists like Zoe know that there is Zen in riding and maintaining. Painters like Zoe know that there's value in thrill and play, in being loose and goofy, in giving every dumb idea an opportunity to breed. When Zoe jumps from aircraft, she is in the company of a great guru.
Best regards,
Robert
PS: "Many blocked creatives tell themselves they are both too old and too young to allow themselves to pursue their dreams. Old and dotty, they might try it. Young and foolish, they might try it. In either scenario, being crazy is a prerequisite to creative exploration." (Julia Cameron)
Esoterica: Zoe says, "Choose to be a baby. Ask how would a baby handle this. See the world with baby eyes. Babies are seeing everything for the first time. Cool." I ask Zoe what is her main secret. "Secret" It's what Peter O'Toole said at the Oscars: "Private study." Crazy?
This letter was originally published as "In praise of crazy" on March 25, 2003.
The Letters: Vol. 1 and 2, narrated by Dave Genn, are now available for download on Amazon, here. Proceeds of sales contribute to the production of The Painter's Keys.
"One must act in painting as in life, directly." (Pablo Picasso)
Featured Workshop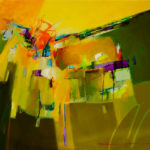 Creating an Abstract From the Ground Up — Workshop/Retreat Taos, New Mexico
September 24, 2018 to September 28, 2018
Want to paint Abstracts but haven't a clue how to begin, or know when an abstract is finished? Discover luscious quiet colors so your abstracts stand out?
This fabulous workshop will guide you through creating an Abstract painting from beginning to end. Come join me in Taos, New Mexico for this special retreat filled with information, growth and creativity.
Watch the evening New Mexico light caress the adobe walls filling the air with a soft apricot glow… it is this light that inspires us to enter our soul.
http://www.gwenfox.com or call 575-751-0183
Featured Artist
My aim as a painter is to bring to life a slice of the world as I experience it. Light, color and form are my vocabulary.