Dear Artist,
My Dad had a theory about how to sustain and elongate periods of productivity and happiness in his studio. He said it had less to do with planning and was more aligned with what he called, "intuition zones." His life, it seemed, was organized like a Montessori classroom: painting station, yogurt station, thinking station, bath station, writing station, forest station. Perhaps it was the rhythm of these activities, repeated daily but without the constraints of a dogmatic regime that gave him the feeling that he was fluttering automatically between them by way of his intuition. The secret, he said, was to move as moved; guilt-free, from station to station, to the beat of one's creative rhythm, need for rest, sustenance and connection. Nap station for example, a tricky one for rookies, once mastered, would prove to be a cornerstone of creative joy and achievement.
Today, mid-2021, more of us have been nudged towards our own intuition zones. The instantaneous deinstitutionalization of workers last year, for example, thrust once-commuters into domestic flex-spaces. Overnight, systems of productivity were flipped, scrapped and blank-slated, with all kinds of workers given the chance to re-invent these systems on their own terms, and tasked with compartmentalizing an existing compartment — their home. The advantage of blurring laundry with contemplation, idea generating and meetings, say, is that, while challenging, it forces us to grab ahold of our hours, and to feel our way through the rhythms of our own creative metabolisms. Suddenly, we are moving between our intuition zones.
Today, the news feed predicts a mass-resignation event, spawned by the collective discovery of our natural rhythms and a resistance to return to the way things were. Modern-day work, modeled on a century-old factory system, has met with a kind of reckoning. Was it, in fact, the most efficient? Was it healthy? Was it the most creative? Did it produce the best work? Was it good for the planet or people? What kind of life was it? Understandably, not all jobs are right for intuition zones — the garbage collector still needs to jump on her ride, as does the downhill skier. But creativity does support zoning. Creativity thrives under it. All that's needed are a few lovingly prepared activity stations.
Sincerely,
Sara
PS: "I've found that an artist's life has little or nothing to do with what anybody else does. But while being guilt-free, it's an added embellishment if we also respect the roles and habits of others around us." (Robert Genn)
Esoterica: Art teachers have lamented that a major problem is students spending most of their time getting ready and clearing up. Intuition zones need to be ready for the zoner. Design your zones to be simple and clear in function. Stock them generously. Make them inviting. Now put them on repeat. Soon, your zones can emerge, gelled, as your own, purpose-built, hyper-useful and totally unique-to-you, creative life.
Have you considered a Premium Artist Listing?  With each letter, an artist is featured at the bottom of this page. The Premium Artist Listings are a means of connecting artist subscribers through their work. Proceeds from each listing contribute to the production of The Painter's Keys. 
"The most demanding part of living a lifetime as an artist is the discipline of working steadfastly along the nerve of one's own intimate sensitivity." (Anne Truitt)
Featured Workshop
January 23, 2022 to January 30, 2022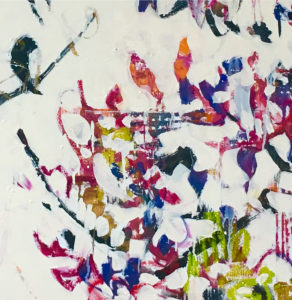 Join Ellie Harold for "Intuitive Painting: Permission to Paint Expressively," designed especially for mature women artists of all skill levels who wish to explore this medium for soulful exploration. The retreat provides attractive accommodations (your own room!) along with lightly structured activities for centering, relaxation and low stress art-making. You'll have plenty of free time to muse, paint, write and reflect while enjoying the colors, textures and flavors of San Miguel. This Retreat has the potential to transform not only your art but your life! You'll return home with a specific art "care plan" to assure support for further creating. Details at www.EllieHarold.com.
Featured Artist
I am a painter. I am delighted to be a painter.