Dear Artist,
In response to a recent comment questioning the validity of an artwork illustrated in these letters, I read one of self-appointed guru David R. Hawkins' multiple handbook installments for qualifying spirituality, Power Vs. Force: The Hidden Determinants of Human Behavior. Really, I skipped ahead to a chapter called "Power in the Arts," as it seemed this might be where I could find the formula mentioned for measuring if something is art. I looked for an equation I could plug my paintings into.
Hawkins dangled a recipe for truth. He promised I could measure every thought, every statement and even my own substandard spiritual enlightenment. It would not just be an adjudication of greatness, he wrote, but a determination of what art is. His formula was simple: When looking at anything, I just needed to test my physical strength. He said this kinesiological check was also a "failsafe detector of art forgeries." In response to the work, the stronger I was physically, the better the art. I packed up my dumbbells and strode confidently in the direction of the Guggenheim.
For the dumbbell-less who have stopped asking, "Is it art?", dogma, including for measuring such things, including the good and the legitimate, still putrefies in the dank crevices of the deeply insecure. Gurus bank on it. And recipe-takers rely on it. Have you heard of the gullible gene? It replaces consideration. Even crit-junkies know that one-size fits all is antithetical to curiosity and the mysterious and mutable goddess we know as, "art." Art's very design is to shapeshift. The question itself is meta. "Art" is a placeholder word for the plumbing of infinity. Like an imploding black hole, like the trick-winks of a million-year-old star, like the ever-building fecundity of the soil in your compost bin, or a wilting-by-the-minute blossom, or a cloud; it moves through space and time as a discovery of temporal aliveness; discovered, over and over as if forgotten the day before. It owes no explanation. Its existence is its only meaning. It is both as familiar as memory and as new as an invention. As artists, if we knew what it was, if we could measure it, there would be nothing left to make.
Sincerely,
Sara
PS: "Art is the thrilling spark that beats death – that's all." (Brett Whiteley)
Esoterica: Do not mistake the contextualizing of art — the telling of the life story of an artist, for example — or myth building in general, or the commodification of art by way of selling it or decorating with it or lionizing it in a museum — as art, itself. Art relies on none of these things. Also, do not mistake these adjunct things as a valuation of a person's creative self. And so, the question of whether something is art is none of our concern. If we must ask, if we cannot resist asking, consider what makes something art could be, simply its very consideration. "Art is about paying attention," wrote Laurie Anderson. If you are considering it, it has fallen, or snuck, into a territory of aesthetic consideration. "Art completes what nature cannot bring to finish," wrote Aristotle. "The artist gives us knowledge of nature's unrealized ends."
Have you considered a Premium Artist Listing?  With each letter, an artist is featured at the bottom of this page. The Premium Artist Listings are a means of connecting artist subscribers through their work. Proceeds from each listing contribute to the production of The Painter's Keys. 
"We have art in order not to die of life." (Albert Camus)
Featured Workshop
January 23, 2022 to January 30, 2022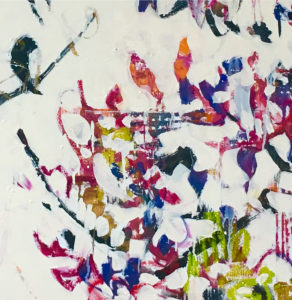 Join Ellie Harold for "Intuitive Painting: Permission to Paint Expressively," designed especially for mature women artists of all skill levels who wish to explore this medium for soulful exploration. The retreat provides attractive accommodations (your own room!) along with lightly structured activities for centering, relaxation and low stress art-making. You'll have plenty of free time to muse, paint, write and reflect while enjoying the colors, textures and flavors of San Miguel. This Retreat has the potential to transform not only your art but your life! You'll return home with a specific art "care plan" to assure support for further creating. Details at www.EllieHarold.com.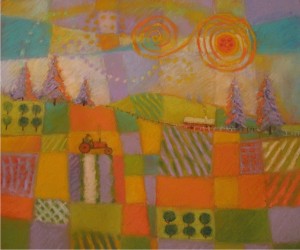 Sunrise Over the Farm #2
original pastel 15 x 15 inches
Featured Artist
Mary's interest in pastel painting began during her years at Whitworth College in Spokane, WA where she majored in art and elementary education. Though she has worked in watercolor and oil as well as calligraphy, her interest has consistently turned primarily to pastel because of the medium's potential for glowing, vibrant color and the harmony achieved in bringing together lights and shadows.