Dear Artist,
A two-day workshop last weekend refreshed my memory of how artists often go the recipe route. Some, not all, asked regularly and took detailed notes of colours used by the beleaguered demo-doer. Some noses came awfully close to picking paint from my palette.
Of interest was the particular mixture of grey imprimatura. I frequently repeated that this recipe was changed daily depending on mood, degree of experimentation, and the needs of the work. Artists needed to know, nevertheless, and asked persistently. I'm here to tell you that white gesso, carbon black, yellow ochre and a touch of magenta to a grey scale of almost 50% is not carved in stone.
And then there's the palette. My backpacking sorties have taught me to keep it light and simple. Actually, a limited palette is a big plus because it teaches creative mixing. In opaque media such as oil or acrylic a pretty good range can be had from Phthalo blue, Hansa yellow, magenta, Cadmium red, sap green or equivalent, yellow ochre, raw umber, titanium white and carbon black. While it is amazing the sophisticated purples and earth tones that can be mixed from this palette, it's not the Holy Grail. While some palettes are unique to individual artists, yet others are even simpler.
Materials do not make the work of art, it's the craft of handling them. Great art is not born in art stores. I once knew a travelling painter who carried more than 700 brushes in his truck. I'm sure it gave him a sense of security, but it didn't improve his art. No, five is enough for most of us mortals. As far as tube colours — he had at least one of each of everything Golden and Liquitex made, and some others to boot.
Keeping it simple may lower the number of possibilities, but not by much. The nine pigments mentioned above are still plenty. As I tried to emphasize to my weekend group, the palette is a matter of individual choice, determined after trial-and-error. Recipe gatherers are not always open to the trial-and-error part — I call it "commit and correct." These days folks often feel they need to save themselves some time. This can be false economy. Selling everyone on commit and correct is not easy. It's all about creativity, and that's the fun part.
Best regards,
Robert
PS: "How difficult it is to be simple." (Vincent van Gogh)
"Brevity is the sister of talent." (Anton Chekhov)
Esoterica: Pierre Bonnard, no slouch in the colour department, said, "You reason color more than you reason drawing. It has a logic as severe as form." Understanding and mastering colour requires thought, diligence, experimentation and commitment. Taste plays its part — a sip here, a sip there — and simple ingredients often make the best soup. "Color is like cooking," said the granddaddy of colour knowledge, Josef Albers. "The cook puts in more or less salt, that's the difference!"
This letter was originally published as "Keeping things simple" on May 30, 2008.

Have you considered a Premium Artist Listing?  With each letter, an artist is featured at the bottom of this page. The Premium Artist Listings are a means of connecting artist subscribers through their work. Proceeds from each listing contribute to the production of The Painter's Keys. 
"Less is more." (Robert Browning) 
Featured Workshop
June 27, 2022 to June 30, 2022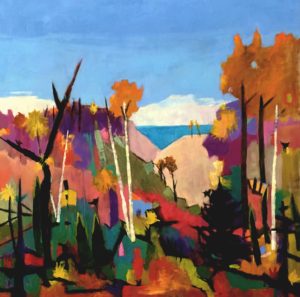 Permission to Paint Expressively Series   Session 1     
June 27-30, 2022
Join Ellie Harold for "Expressive Painting: Color from the Inside Out."  Do you struggle with color? For chromophobics or anyone who would like greater freedom in their use of color, this workshop focuses on activating and applying your innate color sense. Content, process and lightly structured exercises allow you access to a wider range of color expression in the safe space of Ellie's studio, located only 3 blocks from Lake Michigan near Sleeping Bear Dunes. "Expressive Painting: Color from the Inside Out" has the potential to transform not only your art but your life! Details and registration at www.EllieHarold.com.
Featured Artist
My art represents a journey that has been on-going for more than forty years. Guidance from some wonderful artists. Years of plein-air painting and instructing have developed a style that I can call my own. I believe that my current work has attained its highest level so far, reflecting the depth of my absorption in the wonder and beauty of the world around me.  I have learned that, as an artist, I will never stop looking for better ways to express my feelings in art and that struggling to more fully understand myself is integral to my painting; a philosophy that was part of every workshop that I gave – and remains true today.