Dear Artist,
Yesterday, Amanda Jackson of Bahrain wrote, "Lively greys! It's a breakthrough. My work was over-coloured and sometimes in a trite way. I was working 'en grisaille' but lately I've actually started to see the world in paint — and wow! Some greys are a scumble of orange over a dry layer of blue, some browns are deep purple with a hot orange-red glaze. When Rubens said, 'Forty layers are not enough,' he wasn't kidding! It's absolutely everywhere now — these muted colours are in fact alive with the vibration of the stronger colours I've been seeing all my life. I'm joyful!"
Thanks, Amanda. Greys are indeed the key to both painterly joy and advanced tonal quality. As you suggest, the best are obtained by using opposites on the colour wheel. Painters who feel the need to liven up their greys might consider starting with a light grey ground or imprimatura. This personal and predetermined tone, warm or cool, is a benchmark. It covers the entire canvas and sets the key so every "note" that plays afterward goes on either side of it — darker darks, lighter lights.
Early on, paintings develop a general tone that inevitably affects everything that follows. You cannot always go into a painting with a theory and simply execute. Each piece has to be worked out on its own. Improvisation is where art happens. In later stages, painters often need to search out and tone down loud colours and harsh passages. "Better grey than garishness," said Ingres.
Further, vibrating greys can be achieved with equal-intensity colours that essentially fight one another for attention. Pointillist and other impressionist techniques create light-effusing passages. These effects may promote "glow" or simply "character." Used intelligently, they are some of the painterly sophistications that hold a viewer's interest.
Grey is not only the key to classy work, it's the key to understanding relative values. Advanced artists think in terms of the "grey scale" — a photographer's device that determines relative tone values from white to black. Painters do well to develop a "grey-scale in the head" and an interminable willingness to make adjustments. Thus significant mid-range tones are born, laying the groundwork for lively greys.
Best regards,
Robert
PS: "The fundamental grey, which differentiates the masters, is the soul of all colour." (Odilon Redon)
Esoterica: There's a difference between external truth and pictorial truth. It's often the painter's job to understand and craft this difference. Avoided at your peril, a "lack of luminosity" is the cause of many a dull painting. "The most basic, primitive and necessary visual information is found in luminance variations." (Margaret Livingstone) It's not always easy. "The real difficulty in painting," said John Collier, "is in getting the general truth of tone and tint." Restraint is valuable too.
This letter was originally published as "Lively greys" on July 31, 2007.
Have you considered a Premium Artist Listing?  With each letter, an artist is featured at the bottom of this page. The Premium Artist Listings are a means of connecting artist subscribers through their work. Proceeds from each listing contribute to the production of The Painter's Keys. 
"Do not exhaust all combinations on one canvas." (John F. Carlson)
Featured Workshop
January 23, 2022 to January 30, 2022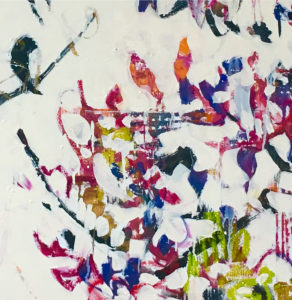 Join Ellie Harold for "Intuitive Painting: Permission to Paint Expressively," designed especially for mature women artists of all skill levels who wish to explore this medium for soulful exploration. The retreat provides attractive accommodations (your own room!) along with lightly structured activities for centering, relaxation and low stress art-making. You'll have plenty of free time to muse, paint, write and reflect while enjoying the colors, textures and flavors of San Miguel. This Retreat has the potential to transform not only your art but your life! You'll return home with a specific art "care plan" to assure support for further creating. Details at www.EllieHarold.com.
Featured Artist
My statement is pretty short. I love all kinds of paintings and I think Robert Genn is Canada's finest painter. A great feature of his work are his designs — so beautifully conceived.