Dear Artist,
A couple of weeks ago, a case began in a chamber of the Paris court to decide if Daniel Druet can lay claim to the authorship of some wax models he made for Italian conceptual artist Maurizio Cattelan. Cattelan is known for, among other things, duct-taping a banana to the wall of Galerie Perrotin's booth at Art Basel Miami Beach in 2019, selling two editions of it for $120,000.00, having it eaten by another artist, replaced, and then removed from the fair. The piece, titled "Comedian", was subsequently donated to the Guggenheim with a certificate of authenticity and instructions and a diagram for its installation and display.
Druet, a well-known sculptor of wax effigies, an alumnus of the Beaux-Arts de Paris, and twice, the winner of the Prix de Rome, made some wax models for Cattelan, beginning in 1999 with one depicting Pope John Paul II being crushed by a meteorite. He claims that he, in fact, made nine of Cattelan's most well-known works, and that he's subsequently been robbed of his intellectual property by not being co-credited. As a result of the omission, he's seeking full authorship of the works and acknowledgement from Cattelan and Galerie Perrotin, plus compensation from their sales, which amount to millions. Druet is also suing Monnaie de Paris, the museum that staged Cattelan's major retrospective in 2016 for being in on the appropriation and omission of credit.
Both Maurizio Cattelan and Daniel Druet agree that Cattelan commissioned Druet to make the effigies, and paid him for them. The gallery says Druet was credited for the models as a subcontractor, rather than a creator. All parties admit that the terms of the collaboration were initially vague. And there was no contract. Cattelan says that as the ideator, he received delivery of the Pope standing, for example, then sawed it in half on the floor and affixed a meteor-like rock to it. But Druet insists that it was the accreditation of the wax figures that he contests, not Cattelan's theatrical installations. Some of his other pieces, he says, were exhibited just as he delivered them, or simply hung on the wall, and that written support material for the Pope omits any mention of his making the model effigy. "They were his ideas, but my way of making them," says Druet. "It's the life that I give to each character. I express myself in what I do."
Sincerely,
Sara
PS: "The issue of authorship in conceptual art lies at the heart of the dispute between Maurizio Cattelan and Daniel Druet. There is no doubt that Maurizio Cattelan's personalitý exists in all of his works through the creative choices he makes, the staging, and the meaning found by each viewer." (Galerie Perrotin, May, 2022)
"He sent a ten-line fax – or collaborators who spoke a few words of French gave me some instructions. All vague, I had to get by on my own." (Daniel Druet, to Le Monde, 2022)
"I believe we should get rid of the copyright-reigned world, where ideas coincide with property," (Maurizio Cattelan, 2018)
Esoterica: "There's a greater distance today," said Druet's lawyer during trial, "between the person who makes [an artwork]and the person who has the idea." He was mid-discussion about what defines a creative act, the meaning of conceptual art and whether Maurizio Cattelan can draw. The problem is, while conceptual artists have been using fabricators, assistants and readymades since the birth of the movement and this is, it seems, a part of conceptualism itself; painters, sculptures, printmakers and anyone else with deep pockets and ambition have been using assistants forever, too. Never was there a Renaissance workshop without a dozen chisels chiseling. And all those cherubic angels didn't paint themselves. Nevertheless, 21st Century artists are nervous – even penning an op-ed for La Monde last week to assert the superiority of ideating over making. "Daniel Druet's quest for recognition as the exclusive author of the works imagined by Maurizio Cattelan opens the door to the disqualification of conceptual art." A verdict in Druet vs Cattelan is expected July 8.
"I never touch the work myself. It's out of my hands." (Maurzio Cattelan to Nancy Spector, chief curator of the Guggenheim Museum, 2000)
"I made those works. No one mentions me." (Daniel Druet)
Have you considered a Premium Artist Listing?  With each letter, an artist is featured at the bottom of this page. The Premium Artist Listings are a means of connecting artist subscribers through their work. Proceeds from each listing contribute to the production of The Painter's Keys. 
"How can one state the source of its creativity with absolute certainty?" (Maurizio Cattelan)
Featured Workshop
August 22, 2022 to August 25, 2022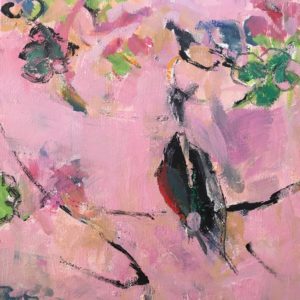 Permission to Paint Expressively Series   Session 2 
August 22-25, 2022 
Join Ellie Harold for "Expressive Painting: Making Your  Marks."  With a focus on intuitive mark-making, this workshop is designed to facilitate a fuller expression of your deepest and most essential artist Self. Content, process and lightly structured exercises give you permission to create the art that wants to be made by you in the safe space of Ellie's studio and the fresh air and cool light of northern Michigan near Sleeping Bear Dunes. You'll return home with a specific art "care plan" to assure support for "Making Your  Marks" in the world. Details and registration at www.EllieHarold.com.
Featured Artist
We all need beauty, especially at a time when it appears to many that the world is in chaos.
Painting is the way I view my life, and it helps me keep my mind straight and my eyes on the positive. I look for beauty wherever I go. For that reason, I know that my life will not be long enough to paint all the ideas that I have.
I am painting because the Lord put the passion and desire in my heart to glorify Him in this way.
I have dedicated my life since 1983 to creating a body of work that testifies of His Creation, majesty, power, beauty, life and love.
Light and how we see it on the earth is the subject of all of my paintings.
I paint the landscape because I believe that we can see the Creator in His Creation, if we just look for Him there.
Since all who are sighted may see our surroundings, I believe this is one of the most evident ways we may see Him.
If I were to give a name to my entire portfolio of paintings, I would call it "The Sight of Heaven Touching Earth."This Scripture, Romans 1:19-20, is foundational to all of my work: For what can be known about God is plain to them, because God has shown it to them. For his invisible attributes, namely, his eternal power and divine nature, have been clearly perceived, ever since the creation of the world, in the things that have been made, so they are without excuse."
 Beauty, order, and the possibility to love is all around us—all we have to do is want to see it.