Dear Artist,
When fraternal twins Joyce and Judith Scott were born in 1943, they were two peas in pod — soulmate sisters, inseparable and aligned in every way except for the defining feature of Judith having been born with Down Syndrome. Their early, middle-class childhood in Cincinnati, Ohio was filled with days of make-believe, inventing games, playing outside and intimate friendship.
When it came time for the girls to begin grade school, a gap had emerged. While Joyce was developing on pace with other kids, Judith did not speak, and so failed to qualify for the only Ohio public school program offered to children with disabilities. This failure confirmed her doctors' and psychologists' assumptions that she was "uneducable"; at age seven and-a-half, Judith's parents placed her in the Columbus State School, founded in 1857 as the Ohio Asylum for the Education of Idiotic and Imbecile Youth. Eventually, Judith became a ward of the state. Records of her time at the state school describe a restless, lonely and devastatingly unrealized and unloved existence. It was only many years after Judith's removal from her family home that it was determined that a bout of scarlet fever had rendered her deaf in infancy. She likely could not hear the questions being asked of her during her early education testing.
Joyce, too, was left traumatized by Judith's institutionalization. After years of grief and heartache, in early adulthood, she sought work caring for disenfranchised children and eventually, against the wishes of her mother, began visiting, along with her daughter, a sobbing Judith at the State School. In 1986, 36 years after their separation and after drawn-out and difficult negotiations, Joyce gained legal guardianship of Judith and brought her to live with her and her family in California, where all citizens, regardless of ability, are entitled to a public education. Joyce and Judith were 43.
Joyce, who worked full-time as a pediatric nurse, enrolled Judith at Creative Growth Art Centre, in Oakland, one of the first organizations in the world to provide resources and studio space to artists with disabilities. At first, Judith wasn't all that interested; she preferred to look at magazines and eschewed invitations to paint, which jeopardized her enrollment at the center. One day, visiting textile artist Sylvia Seventy conducted a workshop on fiber arts, laying out willow branches and other natural materials for collage and weaving. In a bolt of inspiration, Judith, who'd been casually observing and who was still completely non-verbal, began tightly wrapping pieces of wood in thread, yarn, fabric, and eventually anything she could find around the studio. Her facilitators, witnessing her spark, gave her free rein of materials, time and the independence to explore her newfound voice, uninterrupted and without interference.
Sincerely,
Sara
PS: "To believe only possibilities is not faith, but mere philosophy." (Thomas Browne)
Esoterica: Judith, on fire with focus, worked fastidiously, five days a week for seventeen years on some 200 unique pieces, never repeating a colour scheme or armature shape. She enveloped and cocooned found objects into wrapped and woven bundles: abstractions which concealed interior handbuilt structures, voids or caches of hidden items. While she never uttered a word, her objects spoke at times, as bulky, unmanageable objects and, at other times, as intimate and jewel-like treasures. In 2005, at age 61, Judith passed away from natural causes, in her sister's arms, at home in Dutch Flat, California. She had lived 49 years beyond her predicted lifespan. Her work endures as part of the permanent collections at the Museum of Modern Art, the Centre Pompidou, and the Smithsonian, among others. Judith Scott's solo retrospective, Bound and Unbound, opened at the Brooklyn Museum in 2014.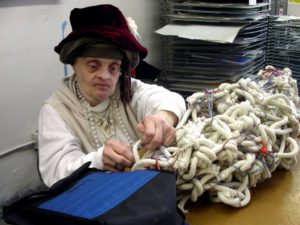 Joyce Scott, Brie Spangler, and illustrator Melissa Sweet's 2021 picture book biography for young readers, Unbound: The Life and Art of Judith Scott is available, here.
John M. McGregor's Metamorphosis: The Fiber Art of Judith Scott, charts Judith's first 12 years at the Creative Growth Art Centre, and is available, here.
"Intuition is the only true guide in life." (Jiddu Krishnamurti)
Featured Workshop
January 23, 2022 to January 30, 2022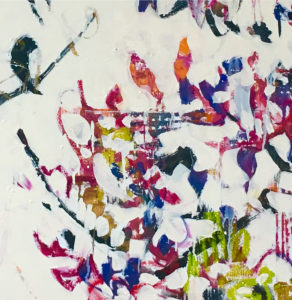 Join Ellie Harold for "Intuitive Painting: Permission to Paint Expressively," designed especially for mature women artists of all skill levels who wish to explore this medium for soulful exploration. The retreat provides attractive accommodations (your own room!) along with lightly structured activities for centering, relaxation and low stress art-making. You'll have plenty of free time to muse, paint, write and reflect while enjoying the colors, textures and flavors of San Miguel. This Retreat has the potential to transform not only your art but your life! You'll return home with a specific art "care plan" to assure support for further creating. Details at www.EllieHarold.com.
Featured Artist
We all need beauty, especially at a time when it appears to many that the world is in chaos.
Painting is the way I view my life, and it helps me keep my mind straight and my eyes on the positive. I look for beauty wherever I go. For that reason, I know that my life will not be long enough to paint all the ideas that I have.
I am painting because the Lord put the passion and desire in my heart to glorify Him in this way.
I have dedicated my life since 1983 to creating a body of work that testifies of His Creation, majesty, power, beauty, life and love.
Light and how we see it on the earth is the subject of all of my paintings.
I paint the landscape because I believe that we can see the Creator in His Creation, if we just look for Him there.
Since all who are sighted may see our surroundings, I believe this is one of the most evident ways we may see Him.
If I were to give a name to my entire portfolio of paintings, I would call it "The Sight of Heaven Touching Earth."This Scripture, Romans 1:19-20, is foundational to all of my work: For what can be known about God is plain to them, because God has shown it to them. For his invisible attributes, namely, his eternal power and divine nature, have been clearly perceived, ever since the creation of the world, in the things that have been made, so they are without excuse."
 Beauty, order, and the possibility to love is all around us—all we have to do is want to see it.