Dear Artist,
In 1960, saxophonist Steve Lacy transcribed 25 musical "tips" from jazz pianist and composer Thelonious Monk. Monk was, at the time, highly regarded by his peers and cutting-edge jazz critics, but his music was considered inaccessible by the mainstream — his abstract, shadowy, percussive and spacious style was far from the exultant, hard and fast-swinging bebop of his most popular contemporaries. Monk had been experiencing poor record sales, did residencies at the Five Spot Cafe in the East Village, changed labels, had some minor trouble with the law and would soon sign to Columbia and record the highest-selling album of his career — Monk's Dream. All the while, he maintained an ardent drive towards pure musical exploration and pushed forward into the edges of his art form. One night, he rattled off these pointers to the band:
T. Monk's Advice
Just because you're not a drummer, doesn't mean that you don't have to keep time.
Pat your foot and sing the melody in your head when you play.
Stop playing all that bullshit, those weird notes, play the melody!
Make the drummer sound good.
Discrimination is important.
You've got to dig it to dig it, you dig?
All reet!
Always know
It must be always night, otherwise they wouldn't need the lights.
Let's lift the band stand!!
I want to avoid the hecklers.
Don't play the piano part, I am playing that. Don't listen to me, I am supposed to be accompanying you!
The inside of the tune (the bridge) is the part that makes the outside sound good.
Don't play everything (or everytime); let some things go by. Some music just imagined.
What you don't play can be more important than what you do play.
A note can be small as a pin or as big as the world, it depends on your imagination.
Stay in shape! Sometimes a musician waits for a gig & when it comes, he's out of shape & can't make it.
When you are swinging, swing some more!
(What should we wear tonight?) Sharp as possible!
Always leave them wanting more.
Don't sound anybody for a gig, just be on the scene.
Those pieces were written so as to have something to play & to get cats interested enough to come to rehearsal!
You've got it! If you don't want to play, tell a joke or dance, but in any case, you got it! (to a drummer who didn't want to solo).
Whatever you think can't be done, somebody will come along & do it. A genius is the one most like himself.
They tried to get me to hate white people, but someone would always come along & spoil it.
Sincerely,
Sara
PS: "The piano ain't got no wrong notes." (Thelonious Monk)
Esoterica: Thelonious Monk was born in 1917 in Rocky Mount, North Carolina, with his family moving to the Phipps Houses project on West 63rd Street in Manhattan when he was five. At age six, he taught himself to play the piano, then attended Stuyvesant High School, a public school for gifted students, but didn't graduate. In his early twenties, Monk was the house pianist at the Harlem nightclub Minton's Playhouse, where he developed his entirely self-taught and singular playing style during after-hours cutting contests, when dueling with other stride players. Along with regulars Charlie Parker and Dizzy Gillespie, Monk's intimate, exhaustive and poetic improvisations pioneered new languages of modern jazz and helped birth bebop as a seminal art form. "And then there was the silence. There is nothing more daunting and mysterious. We flood silence with chatter, we fill it with noise or notes rather than let it reveal what it knows or just let it be," wrote music journalist Candace Allen for The Guardian in 2017.  "For Monk, silence was at once muse and the centre of his gravity, as much as his wife, Nellie, his children, Boo Boo and Toot, his "crazy" friend [and patron]Pannonica [de Koenigswarter], the church piano or the myriad manifestations of blue. It's Monk's encyclopedic and joyous considerations of silence that secure his place in the pantheon of past, present and future improvisational music as much as his jewel-faceted tunes and mould breaking/remaking harmonics."
"Fans and recording companies alike wanted a continuing cascade of new music – also part of a successful musician's "job", while Monk, in the manner of Cézanne, with his ceaseless studies of Mont St. Victoire, or a cellist constantly revisiting Bach's suites, sought new ways of revisiting groupings of notes he'd already ordered, knowing their possibilities to be infinite." (Candace Allen)
The Letters: Vol. 1 and 2, narrated by Dave Genn, are available for download on Amazon, here. Proceeds of sales contribute to the production of The Painter's Keys.
Monk's music "was like leaves on a tree. His music grew from nowhere else but inside of him." (Tenor player Johnny Griffin)
Featured Workshop
May 1, 2020 to May 3, 2020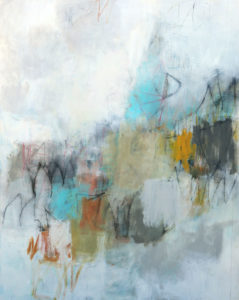 Experience beautiful early spring in Santa Fe, NM.  Develop your own unique marks and painting vocabulary in this 2 1/2 day abstract acrylic workshop.
We will work on paper, and for those who like, unstretched canvas, using conventional and unconventional mark making tools and drawing media.  Via guided exercises you will practice a variety of marks and learn how to create a work rich with history and depth through the process of layering these marks with acrylic paint.
This class is suitable for beginning and intermediate painters.  Cost is $595.00  Materials list provided one month prior to the workshop or can be provided at an additional cost of $100.00
https://julieschumer.com/julie-schumer-workshops/
Featured Artist
Monique Jarry is a Canadian and a graduate of the Ecole des Beaux-Arts de Montreal.