Dear Artist,
My experience has been that plein air requires a different mind-set than indoor work. Small inconveniences that do not occur in the studio can make or break the effort — a cool wind on the neck or a lightly primed canvas that lets the light through — minor irritants, but important to anticipate and prepare for. I recommend building up to the activity, finding comfort with your own methodology, not expecting too much. It's the time-honoured "field sketch," and it's noble. Better to have a small diamond than a large piece of glass.
At the same time, and I'm not trying to influence your style here, try for the "big picture" in the first few strokes. I find that very often that when the grand gesture is made early on it holds the thing together. Don't be afraid to keep it simple and broad; there's always time for detail. A few minutes of Zen-like consideration before the first stroke will generally pay off, too.
Most of my outdoor paintings are unabashed two-steps. The outdoor part attempts to be joyously cursory — as fresh and fluid as possible, first impressions, happy accidents — with lots of canvas, paper or panel showing and unrealized areas just left. It's really a set up for what's coming — the second thought — the work around the fortuitious strokes, the tightening and figuring out back in the studio or in the cabin later in the evening.
There's another quality to outdoor work: Communion. Try a boat. An evening drift on a river or lake in a floating easel, going with breezes and currents, softly turning this way and that, trawling for visual interests and suggestions that bubble up from the mysterious subconscious; clouds, reflections. Hands down, it beats dragging in fish.
Best regards,
Robert
PS: "He is only an eye, but my God, what an eye." (Paul Cezanne commenting on Claude Monet) "Let the beauty we love be what we do." (Rumi, 1207-1237)
Esoterica: Whistler's palette (not his mother's). In some work he was supposed to have used only these earth colors: White, Yellow ochre, Venetian or Indian red (Venetian for oranges and Indian for violets) Ivory black, Raw umber, Raw sienna. Also Permanent blue. This limited palette, while difficult, can be expected to bring quality control and surprising range. It's good training too. Less is more.
This letter was originally published as "Painting outdoors" on June 6, 2000.
Download the new audio book, The Letters: Vol. 1 and 2, narrated by Dave Genn, here. Proceeds of sales contribute to the production of The Painter's Keys.
"For art and joy go together, with bold openness, and high head, and ready hand — fearing naught and dreading no exposure." (James Abbott McNeill Whistler)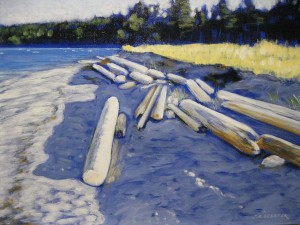 The late afternoon sun on the tip of Savary Island's Indian Point highlights the design elements of the logs and the summer surroundings of the island.
Featured Artist
My enjoyment in representing the beauty of our world with strong design and bold colours is what drives my passion for my landscape painting of Savary Island and other parts of our amazing planet.