Dear Artist,
One day at school, my art teachers Jenny and Carolynn gave me a book of paintings by Georgia O'Keeffe. I was 12 and O'Keeffe was 96, still living on a 31,000-acre ranch in New Mexico. I didn't know this at the time, but it would be Georgia's last year there after summering on the ranch and wintering in nearby Abiquiú for over 50 years and now having lost most of her vision to macular degeneration. She would pass away peacefully in Sante Fe two years later. I studied her astonishing paintings and confessional letters, internalizing her childhood on a dairy farm in Sun Prairie, Wisconsin, her breakout in New York in her 20s and her destiny to articulate the Southwest into a masterpiece of modernism. Of the only two photos she ever allowed to be taken of her working, I especially treasured the one of Georgia painting in her customized Ford Model-A — the one she bought so that she could drive out alone into the desert and paint in the back seat. Georgia seemed to embody what was possible for an artist — to live a life that was completely one's own.
This week, 35 years after my first encounter with Georgia, Peter and I have peeled off the interstate after Phoenix to follow an undulating ribbon of blacktop, cutting through the rippled red hills and polka dot Junipers beneath her cerulean, New Mexico sky. The ridges of the Jemez Mountains and their jewel, the Cerro Pedernal from Georgia's paintings now bleed beyond the windshield in striped ochre and Indian red. "It's my private mountain. It belongs to me," she said about the Pedernal. "God told me if I painted it enough, I could have it."
How does an artist claim the unclaimable? Stalking her painting locations today has revealed some of the magic of her choices. The answer has something to do with immersion, devotion, a practice, an honouring of the environment in a way that supersedes its documentation and somehow gives more than it takes. Like making a homestead, making a life in paintings — in place — happens over a million hours and miracles. "Come quickly. You mustn't miss the dawn," Georgia told her houseguests, before hiking them out to the sandstone cliffs that towered behind her adobe house. "It will never be just like this again."
Sincerely,
Sara
PS: "Where I was born and where and how I have lived is unimportant. It is what I have done with where I have been that should be of interest." (Georgia O'Keeffe)
Esoterica: After location stalking at Ghost Ranch, filling up the Wrangler at Bode's General Store where Georgia had filled up her Model-A and after standing breathless in her Abiquiú studio, we're now tucked in, tonight in Georgia's bedroom at Mabel Dodge Luhan's house in Taos, where she stayed for many summers before moving permanently to the ranch. The vibes are real. Incidentally, down the hall is Ansel Adams' room, from where my dad wrote his letter to you At Mabel's house on March 18, 2011.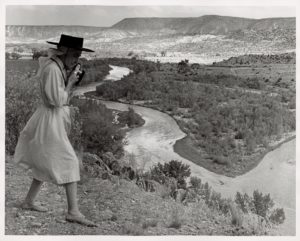 "Painting is like a thread that runs through all the reasons for all the other things that make one's life." (Georgia O'Keeffe)
The Letters: Vol. 1 and 2, narrated by Dave Genn, are available for download on Amazon, here. Proceeds of sales contribute to the production of The Painter's Keys.
"A week ago it was the mountains I thought the most wonderful, and today it's the plains. I guess it's the feeling of bigness in both that carries me away." (Georgia O'Keeffe)