Dear Artist,
Stephen King, who is 73, says he doesn't write his ideas down because if they're good enough, he's unlikely to forget them. While this goes against many artists who keep notebooks and tape recorders in the car or by the side of the bed lest they forget their dreams, it works for King. "I don't take notes; I don't outline, I don't do anything like that," he says. "I just flail away at the goddamn thing."
In painting, whether you're a planner or a flailer, one of the most valuable things you can take from your own process is to try the opposite once in a while. Flailing for a day, for example, can get you out of a step-by-step system that may be blocking untapped, magical accidents. And forcing a flailer to plan her work should coax skills of care and technical understanding that will serve her during future flails. Here are a few ideas:
For planners:
You may be stuck in a system where your work is telling the story of your system instead of the more interesting story of your experience of the world. Forgo your imprimatura, grisaille or drawing stage altogether and attack the entire painting surface, wet into wet in one go. For this exercise, set a time limit for your painting of less than an hour — 30 minutes really should do. Abandon comfortable building blocks and instead focus on laying in shapes and zones, including lights and darks in one go. Keep it loose and keep an eye out for the surprise and delight of abstraction, surface interest, bleeds, zips and magic.
For flailers:
You may lack the discipline or understanding to work a plan and to take pains in completing each stage with technical and observational integrity, producing work that is weak in design and messaging. Look three times and take a moment to mix a few key colours with intention. Paint a tonal ground and let it dry. Now make a general plan, either on the painting surface or nearby, for where you want things to be, and design an order of operations as to how you're going to get there. What is the message and meaning of the work? What is the ultimate vibe you're trying to create? What do you want people to feel? It can be useful to give the work a title before you even start. Developing a process for a desired result takes time and trial and error. Prepare half a dozen grounds and see if you can build a personal system of steps that will bring you to a more thoughtful and polished work of art.
Sincerely,
Sara
PS: "It is, after all, the dab of grit that seeps into an oyster's shell that makes the pearl, not pearl-making seminars with other oysters." (Stephen King)
Esoterica: "Talent is cheaper than table salt. What separates the talented individual from the successful one is a lot of hard work," wrote King. The answer is still, and will always be, work. If we are to advance our ideas and our ability to communicate them, we must find ways to develop our hard-won systems while staying loose and open to magic. Art needs the ineffable something that we cannot explain. If this all sounds like a delicate and eyelash-thin tightrope to navigate, check any skilled person's performance at any stage of their development and their mastery. Notice the work they put in to retain and refine the art within their craft. After all these years, I'm starting to think that being relaxed could be the greatest skill of all. How do we do that? Experience, knowing ourselves, context, enjoyment, practice, love and a commitment to continuing to work on these things. "All you need to do is hold on tight… and believe." (Stephen King)
Have you considered a Premium Artist Listing?  With each letter, an artist is featured at the bottom of this page. The Premium Artist Listings are a means of connecting artist subscribers through their work. Proceeds from each listing contribute to the production of The Painter's Keys. 
"In the arts the way in which an idea is rendered, and the manner in which it is expressed, is much more important than the idea itself. To give a body and a perfect form to one's thought, this – and only this – is to be an artist." (Jacques-Louis David)
"When asked, 'How do you write?' I invariably answer, 'One word at a time.'"(Stephen King)
No Featured Workshop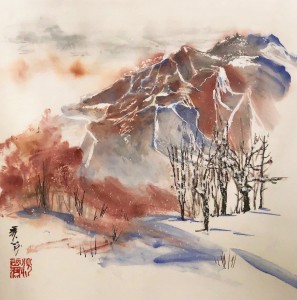 Midwinter Chill
Featured Artist
Los Angeles-based artist Lisa Chakrabarti works in a variety of media: oils, acrylics, pastels, watercolors, graphite and colored pencils. Focusing on a style she calls "romantic naturalism" – impressionism based largely on subjects in the natural world – her works have found their way into galleries in Los Angeles, Florida, Colorado and New York. In 1995, after being introduced to sumi-e and Chinese ink painting by Asian friends, Lisa became captivated by the apparent freedom and subtlety of this ancient medium.  This shift in focus has informed her work ever since.