Dear Artist,
Three Mondays in a row, an email appeared with an invitation to submit to an online gallery for exposure to an international audience. The middle of the first email was padded with generic compliments and a mission statement about empowering artists and enhancing worldwide visibility. No other details were provided. At the end, there was a link to a short news article about the site's start-up funding (2 million euros.) By the time the third email arrived, the language had moved from "I sincerely admire this unique style in your artworks, and the strong power that emerges from it" to "Did you receive my last emails?" Peter told me it was a bot, but the pressure was mounting. Not wanting to be rude, I replied:
"Thanks for your emails. I've read the information in your attached links regarding the platform's background and founder and have browsed the site. Could you please send more information including commission structure for artists, inventory/shipping details plus target audience and curatorial programming? What is the average price point and how many artists do you wish to represent? Lastly, do you sell only original art or do you also sell reproductions? I look forward to hearing more from you." That was Monday. Since then, the bot has been silent. "Our Age of Anxiety," wrote Marshall McLuhan, "is, in great part, the result of trying to do today's job with yesterday's tools and yesterday's concepts."
Still waiting, I googled "online art platforms" and fell into a mega mall: Saatchi Art, Artfinder, Vango, UGallery, Absolut Art, Tappan Collector, Deviant Art, Artsy, 1st Dibs, Artspace, artnet, Dribbble, Artfire, Artplode, Cafe Press, EBay, Etsy, Fine Art America, Sotheby's Home, Art.com, Singulart. While the fine print was buried, each seemed to offer a little something different from the next; some selling warehouse-style accessibility and democratization; others, exclusive access and boutique curation; most, exposure, aggregation and convenience. On some sites, collections were organized by colour or subject matter descriptors, or by price or size, like a row of otherwise uniformly pulverized baby foods, merchandised by meat and vegetable combo. One site featured a "make us an offer" box. And the platforms weren't just for artists. The galleries were there, too, bumping up and down in a popularity algorithm — even the choicest cuts hamburgered by the conveyor belt. Still waiting, I googled myself and scrolled through recent work, bedded in a blinding marketplace of possibly almost every artist, ever. "It is the framework which changes with each new technology," wrote McLuhan, "and not just the picture within the frame."
Sincerely,
Sara
PS: "You're either on the bus or off the bus." (Tom Wolfe)
Esoterica: As the world reopens, it seems the first place to be intimate with an In Real Life cultural experience could be a commercial gallery or open studio. A gallery can open its doors and offer to an individual, a private aesthetic encounter. A gallery is not in the business of crowds. Before concerts, Broadway shows, museum blockbusters, art fairs, and the World Series, a bricks and mortar gallery will invite you away from the screen. "We become what we behold. We shape our tools and then our tools shape us." (Marshall McLuhan)
Have you considered a Premium Artist Listing?  With each letter, an artist is featured at the bottom of this page. The Premium Artist Listings are a means of connecting artist subscribers through their work. Proceeds from each listing contribute to the production of The Painter's Keys.  
"Listen: our culture is saturated with irony whether we know it or not." (Barbara Kruger)
Featured Workshop
August 19, 2020 to August 21, 2020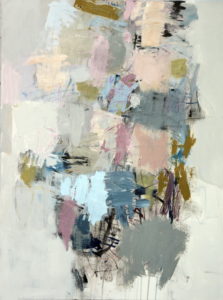 Have some experience painting, but want to explore the elements of non-objective painting in more depth, increase your confidence and creative intelligence? Boldly Abstract 2 is for you.  As in Boldly Abstract 1 we will cover aspects of color, composition and mark making however through a series of more challenging exercises meant for those with more painting experience. Learn how to fix an unsatisfying painting.  We will share our extensive knowledge of the art business with you, covering such topics as the mechanics of running your own art business, applying to galleries and the ins and outs participation in art fairs.   
August 19, 20 and 21
9 am to 4:30 pm
$950  Bring a friend and save $50 each.  Take both workshops and save $100
https://artbycat.com/page/1-Workshops-Prints.html
Featured Artist
Sometimes we see what no one looks for–images that have waited for us to find them. If we are lucky, these images will wait while we try to capture them with paint on canvas. They will probably change as we reach for them. I believe that if we clearly and honestly record what we see, we will be surprised, enriched, and sometimes stunned by what we've found.
There is almost always a narrative in my paintings as I believe that a story may be introduced in a scene. The viewer must fill in the before and after with unique eyes and experience, but enough can be presented to set a challenging stage if the work is successful. 
Along with being a visual story teller, I've been called a colorist, surrealist, patternist, and sometimes a texturist. I'm an Atlanta artist–an oil painter for over twenty-five years–with a studio in Brookhaven. I love working with oils because each painting session results in a new revelation of what they might do. There is a mystical quality to each painting and each day for me.
Finally, and always, there is a spiritual quest in my paintings. Driving that are the essential questions of why we are here, what we can or should or might do here, how we got here, and where we might be going. Just as I believe that there is a spirit in all things, I try to instill a bit of that spirit into each brushstroke.