Dear Artist,
It's warm and muggy beside this froggy pond. I'm the shiny guy wearing the Deep Forest Off. Nearby, an Oregon towhee rummages in the undergrowth. In the distance, a barred owl is being harassed by resident robins. With no immediate obligations and practically no guilt, I'm moving slower than a spotted slug. After years of jumping directly into painting, these days I've been casually drawing things out with a soft pencil. Also, trying to please myself, I'm judiciously glazing work in progress with red oxide — a colour I've previously found unpleasant.
Funnily, Irene Feeney of Roscommon, Ireland, just wrote, "I'm one who struggles to be pleased. I'm also speedy; I complete a painting in a day where another person might take weeks. It may be that my attention to detail is not so accurate, but I like to work fast. I find it hard to work at one section; I look at the whole painting as I work. Maybe this is something I need to harness. Do you think this may be my downfall?"
Thanks, Irene. I'm not going to comment on your downfall, but I do have a few thoughts on fast and slow. The virtue of a painting may not be accuracy, but feeling. Further, taking your time to feel what you're painting is more important than speedy delivery. In both feeling and execution, some folks are naturally faster than others. That you have identified yourself as one of the speedy is just great.
Speedy painters tend to do fresher work than pokey ones. On the other hand, they are also responsible for a lot of the messy stuff you see out there. Just for the sake of change, you might try forcibly slowing down. It's the "extra time" concept. It has something to do with gently living in the present and focusing on the potential of the work at hand. It can be done at the edge of a froggy pond or in a studio sanctuary. One needs to become aware of the relative time between stroking and contemplating. "Look three times, think twice, paint once," is a time-honoured shibboleth. Here's the ploy: Make a work of art that looks like it was done freshly and quickly — but take a long time to do it.
Best regards,
Robert
PS: "Hasten slowly." (Augustus Caesar)
"Wait for that wisest of all counselors; Time." (Pericles)
Esoterica: Many painters feel they have to work furiously to catch the passion. The Russian-American Impressionist Sergei Bongart used to say, "I have to get it out quick or I cool off." But this came after a lifetime of polishing his craft. Who knows how he was when he started out. Fact is, many mature artists re-adopt the hesitant approach of their youth. Composer Igor Stravinsky said, "Hurry? I never hurry. I have no time to hurry." Watching that spotted slug streak down the pathway I'm thinking of Lao Tzu: "Nature does not hurry, yet everything is accomplished."
This letter was originally published as "Slow down to speed up" on August 3, 2012.
Have you considered a Premium Artist Listing?  With each letter, an artist is featured at the bottom of this page. The Premium Artist Listings are a means of connecting artist subscribers through their work. Proceeds from each listing contribute to the production of The Painter's Keys. 
"Be here now." (Ram Dass)
Featured Workshop
January 23, 2022 to January 30, 2022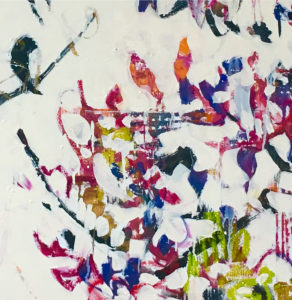 Join Ellie Harold for "Intuitive Painting: Permission to Paint Expressively," designed especially for mature women artists of all skill levels who wish to explore this medium for soulful exploration. The retreat provides attractive accommodations (your own room!) along with lightly structured activities for centering, relaxation and low stress art-making. You'll have plenty of free time to muse, paint, write and reflect while enjoying the colors, textures and flavors of San Miguel. This Retreat has the potential to transform not only your art but your life! You'll return home with a specific art "care plan" to assure support for further creating. Details at www.EllieHarold.com.
Featured Artist
Candace studied at the Ecole des Beaux Arts in Angers, France but it is her travels in the deserts of Africa and Oman, Antarctica and the Arctic, and sacred sights of Machu Picchu and Petra that serve as her true place of learning. A desire to combine these experiences with a deeper understanding of her own spirituality has provided the underlying focus and inspiration for her paintings.