Dear Artist,
English Economist Tim Harford defines creative growth as taking ideas from their original context and applying them elsewhere. Like cross training, he says, it inoculates our creative muscles against hitting a plateau. To avoid getting stuck, just change the subject. Here are a few ideas:
Organize your studio and surrounding areas like a Montessori classroom — with stations geared towards different projects you can flutter to and from. When work slows or you hit an obstacle, move to another station and pick up where you left off.
Harford suggests spreading interests a little wider than reasonable in order to spark insight and advance thinking. Hopping from field to field allows us to apply breakthroughs, boldness, risk and skill across disciplines.
Multi-tasking is an effective antidote to procrastination. If procrastination is, in part, a fear of failure, then jumping to an equally exciting project or one that you perceive to be less risky or more long-term can keep the wheels greased with skill building and muscle work.
Adopt a belief that no activities are bad ones — and that everything you're doing is contributing to your creative work — including sleeping and exercise. Walking — Charles Darwin's daily mania — satisfied his curiosity, aerated his brain, allowed him to reorganize ideas and settle himself with a moving meditation.
Do your multi-tasking in slow motion. Switching between projects quickly can make it impossible to progress meaningfully. Slow to longer, sustained periods at each station, fluttering lazily like a Quaalude-addled butterfly. After more than 30 years of experiments, observation and writing, Charles Darwin completed his masterwork On The Origin of Species in 1859. He was 50. All that time, he'd also been working on other ideas — books on earthworms, psychology, rocks and barnacles, his epic five-year journey on the HMS Beagle, marrying and having ten kids that included studying the development of his infant son, William, all the while obsessing over his orchids, reading Jane Austen, beetle-gazing and perfecting a devotion to what he called, "a very little walk in an idle frame of mind" with his fox terrier, Polly. On his "thinking path" — a sandy, oak-edged trail on the grounds of his property in Downe — Darwin ruminated on what would become his decades-in-the-making projects, with all the time in the world.
Sincerely,
Sara
PS: "Solving problems while in the bath — I can't think of a better example of multi-tasking." (Tim Harford)
Esoterica: The rhythms of truly inspired work require patience and curiosity. Harford cites choreographer and author Twyla Tharp as one of the great slow-motion multi-taskers. Tharp, a creature of highly tuned work habits, applies a system to her system in order to not get overwhelmed with ideas. "You have to be all things," she says. She designates a cardboard box to each potential project and, over time, places nuggets of inspiration in each. "The box means I never have to worry about forgetting. I know where to find it, it's all in the box."
Have you considered a Premium Artist Listing?  With each letter, an artist is featured at the bottom of this page. The Premium Artist Listings are a means of connecting artist subscribers through their work.  Proceeds from each listing contribute to the production of The Painter's Keys. 
"It is not the strongest of the species that survives, nor the most intelligent that survives. It is the one that is the most adaptable to change." (Charles Darwin)
Featured Workshop
February 26, 2020 to March 4, 2020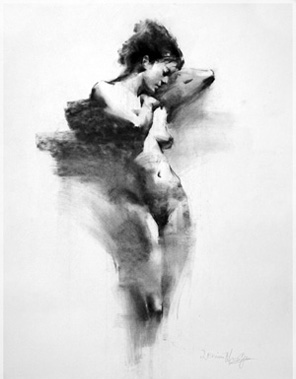 Learn from the Master! The way to do accurate drawing with painterly approach. Join us for this 7 day retreat with 4 day workshop in magical settings of Mexican back country with one of the best instructors of drawing the human figure. From short pose gesture and anatomy studies, to long pose painterly approaches, students will learn step by step the drawing methods, human proportions, anatomy and much more. Live model with small class size will insure lots of personal attention.
Henry Yan has been teaching at Academy of Art University in San Francisco for more than twenty years. His book, "Henry Yan's Figure Drawing – Techniques and Tips" published in 2006, has been widely used by art students and professional artists in the US and internationally.

Casa Buena Art Retreat is a calm and beautiful place to relax and explore your creative energy. Non painting partners welcome.
For more info check http://www.casabuenaartretreat.com/Retreat_HenryYan.htm
or contact Jane at janerom@shaw.ca
Featured Artist
Christine Hanlon, whose work has been compared to that of Edward Hopper, creates 'urban landscapes which quietly exude atmosphere.'