Dear Artist,
"What a bitter struggle is waged between talent and fate," wrote Nguyen Du, author of The Tale of Kieu, the most revered saga in Vietnamese literature. So important is the 3,254-verse epic poem that most children in Vietnam know much of it by heart. Written in 1820, it's the story of a young girl whose beauty is her principal talent but who suffers one miserable setback after the other. Finally, she is forced to sell herself. The Vietnamese take the story to be a metaphor for their country — beautiful but doomed. "When one is endowed with talent," goes the moral, "one cannot depend on it."
On first examination, this idea holds both spirituality and beauty.
Talent is often thought of as those sorts of gifts we are born with — blessings like beauty and brains — or as abilities to be developed, such as drawing, painting or musicianship. One thing's for sure: having talent doesn't mean you're fated to make it work for you. Like a flower blooming in a desert, talent can be unseen and unappreciated.
The development of talent takes fertile ground and dedicated application. Individualism — even eccentricity — is the key to invention and creative evolution. In societies that revere fate, talent is stifled. Like the proverbial nail that sticks out, talent gets hammered down.
Where ideology lingers and opportunities are limited, fate becomes a dominant power. Here in Vietnam the annual income is $500. Unemployment is high. In the countryside, there are few telephones or television sets. Public information and patriotic music are broadcast on the streets and across the fields. Transportation is by foot or bicycle. Sanitation is primitive. Barefoot young women — programmed rice-transplanting machines — stoop knee-deep in flooded paddies. The passing water buffalo driver looks with benign apathy at the peculiar foreigner and wonders "why?"
For those talented ones in any culture who are fated with some degree of freedom from everyday toil, there can be little excuse.
Best regards,
Robert
PS: "Good fortune seldom came the way,
Of those endowed, they say,
With genius and a dainty face,
What tragedies take place." (Nguyen Du, from The Tale of Kieu)
Esoterica: I'm laptopping you from noisy Ly Thuong Kiet Street in downtown Hanoi. Thousands of motorbikes pass here every hour, their stoic drivers masked against the bluish pollution that lends to an ethereal perspective in all directions. They move steadily, toot frequently and pay scant attention to the occasional traffic lights. The system works remarkably well. "Don't do anything eccentric or quick," shouts our guide as we step out into traffic. "Move slowly and with others as if flowing in a river — the waters will part for you."
This letter was originally published as "Talent" on February 3, 2009.
Have you considered a Premium Artist Listing?  With each letter, an artist is featured at the bottom of this page. The Premium Artist Listings are a means of connecting artist subscribers through their work.  Proceeds from each listing contribute to the production of The Painter's Keys. 
"My will exceeds my talents." (Edvard Munch)
Featured Workshop
August 19, 2020 to August 21, 2020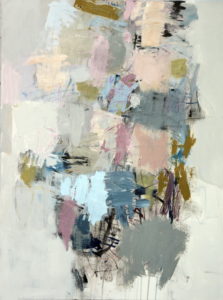 Have some experience painting, but want to explore the elements of non-objective painting in more depth, increase your confidence and creative intelligence? Boldly Abstract 2 is for you.  As in Boldly Abstract 1 we will cover aspects of color, composition and mark making however through a series of more challenging exercises meant for those with more painting experience. Learn how to fix an unsatisfying painting.  We will share our extensive knowledge of the art business with you, covering such topics as the mechanics of running your own art business, applying to galleries and the ins and outs participation in art fairs.   
August 19, 20 and 21
9 am to 4:30 pm
$950  Bring a friend and save $50 each.  Take both workshops and save $100
https://artbycat.com/page/1-Workshops-Prints.html
Featured Artist
A professional painter in both watercolor and oil for over 35 years, I have been creating plein air workshops in Europe for artists to join me since 1996. Plein air is one of the most exciting methods of painting, and I teach a very easy to learn way of capturing the light quickly, that any artist can apply to their own work during our adventures to Europe. Travel for artists is a great way to immerse yourself in painting and make great advances in your techniques by watching other professionals work, and by sharing your own ideas with other artists we all grow! Authentic locations, such as a 12th Century Castle in Ireland, a French Maison in the countryside of France, or an Italian Villa in an historic hilltop village in Italy are carefully chosen. We want our artists and non-painting guests to feel relaxed and at home, with en-suite bedrooms, excellent chef prepared cuisine, and convenient transfers to painting and exploring locations so you can be where you want to be to create. Join me on our next exciting journey!