Dear Artist,
I recently found myself at a gathering of women, all new to me; mostly artists, plus an architect, a curator, a language specialist. The room buzzed with chatter; each person butterflying about with a baby-eyes joy. I landed near the drinks, and met an artist, recently retired from selling financial services. She was now devoted to her drawings, but hinting that she was wondering how to market herself. "What is the biggest piece of advice you would give to an artist just starting out?" she asked.
I took a beat. This, 2021, is my 30th year of painting professionally, having never held another job, having painted, and delivered non-stop, this whole time, even when life got very rocky and, in retrospect, it seems I could barely stand upright. In my 30th professional year, the advice I feel urged to give is "Don't stop." But that's not it.
You see, there's a very special place in the world for a creative person who did not begin her adult life as a professional artist. Rather, this person found paid work in another field, or unpaid work in family life, and waited, patiently, for a day when they could fully pick up their brush. It has been my experience that this person sometimes feels "late" when she finally arrives at her art life. Words like, "don't stop" assume a luxury of unfettered decades to develop and be discovered by a fickle and arbitrary system of recognition and livelihood. They're words for an embryonic upstart, or a mid-careerist who's already clocked a lifetime of slog. They are not words for an artist-in-waiting, now arrived. An artist-in-waiting deserves a practical plan.
Sincerely,
Sara
PS: "I love deadlines. I especially like the whooshing sound they make as they go flying by." (Douglas Adams)
Esoterica: Here it is: Do not mistake who you are as a creative person for the commodification of what you do. You may or may not have cultivated a lifetime of experience on how to develop a body of work and find collectors or critical acclaim. You may or may not be able to parachute into the art world with a boatload of talent, or savvy, or support, and make a go of it. You may or may not believe there is an art career waiting for you, that you deserve and will enjoy. These feelings are universal among artists of all ages and stripes and experience and ability. The professional factors that go into getting paid for your ideas are disproportionately arbitrary. Time — like a lifetime in my case — affords more opportunity for preparation and magic, and the day-by-day development of clarity of purpose, of skill and experience. Part of this experience is that I know how difficult and random it can feel. I have learned not to attach my feelings of worth or creative happiness to these external metrics. Understand that you are now a person who gets up every day and makes things that, for the most part, nobody asked for. They are just ideas, and so work, incrementally, to make them better. Go into your studio with this intention: be yourself, engage deeply, explore your curiosity and bliss. Unlike the journeyman who must make her rent, you have given yourself the gift of later-life play. For this reason, your work has the potential to be higher in concept, more patient in quality of execution, and more potent with the energy and wisdom of life. Take your beat. Infuse your position with joy. "For us, there is only the trying. The rest," said T.S. Eliot, "is not our business."
Have you considered a Premium Artist Listing?  With each letter, an artist is featured at the bottom of this page. The Premium Artist Listings are a means of connecting artist subscribers through their work. Proceeds from each listing contribute to the production of The Painter's Keys. 
"Time and space are fragments of the infinite for the use of finite creatures." (Henri-Frederic Amiel)
Featured Workshop
January 23, 2022 to January 30, 2022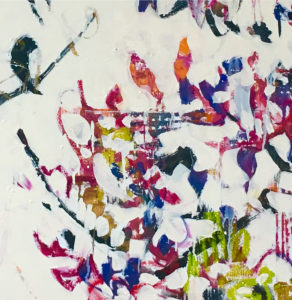 Join Ellie Harold for "Intuitive Painting: Permission to Paint Expressively," designed especially for mature women artists of all skill levels who wish to explore this medium for soulful exploration. The retreat provides attractive accommodations (your own room!) along with lightly structured activities for centering, relaxation and low stress art-making. You'll have plenty of free time to muse, paint, write and reflect while enjoying the colors, textures and flavors of San Miguel. This Retreat has the potential to transform not only your art but your life! You'll return home with a specific art "care plan" to assure support for further creating. Details at www.EllieHarold.com.
Featured Artist
Christine Hanlon, whose work has been compared to that of Edward Hopper, creates 'urban landscapes which quietly exude atmosphere.'