Dear Artist,
At the risk of beating a dead digital horse, I need to revisit something I wrote to you in last week's letter. When discussing presenting art online, I mentioned that one might have more success attracting collectors by photographing something deemed precious in real life, as opposed to, say, a digital-only experience which could be difficult, in these times, to find a backer for. According to yesterday's New York Times, I'm totally wrong. In 2021, it seems, some artists are having the greatest success selling completely digital art. This only-on-the-internet art is embedded with code that authenticates it, tracks its whereabouts and value, is transacted in cryptocurrency on the blockchain and can even be broken up into tiny pieces to be fractionally owned by multiple buyers. If you're still with me, this new kind of art is called a "nonfungible token," or NFT.
Yesterday, Mike Winkelman, the digital artist known as Beeple, with the help of Christie's, sold a JPG for $69.3 million. In doing so, he beat Turner, Seurat and Goya's auction records. He started off his one lot at $100 two weeks ago and watched it climb to $30 million. Then, with seconds remaining, his JPG surged to over $60 million in a frenzy. The newspapers, as part of their regular reporting on the cliquey, market-shaping investment habits of billionaires, noted that it was the third-highest auction result achieved by a living artist after Koons and Hockney. Apparently, in the highest-brow circles of art speculation, the only thing more exciting than snagging a real-life treasure to possibly hoard in an off-shore freeport is the record-breaking digital one you crypto-traded in bitcoin — the newest performance of wealth, even when democratized with fractional ownership — that can never be touched, smelled or installed.
If you're wondering how we got here, I suppose this year, while the rest of us were reconnecting with the intimate, the performance gamblers among us would find ways to trade more stuff on the internet. It was only a matter of time before our most tangible experiences — art included — would be transformed into digital ones, and in doing so, be digitally monetized. Last month, Tesla invested $1.5 billion in bitcoin. After the hedge funds joined in, cryptocurrencies reached a valuation of over $1 trillion, taking with them crypto-traded NFT art. As a result, a fledgling handful of collectors trading NFTs in the $60,000 range last fall are now cashing in at over $6 million for the same piece. Today, NFTs are everything from performance pieces, videos, collages, social media posts, existing artworks that have been destroyed and appropriated, virtual collectible sneakers and collectible digital NBA highlight clips, the latter of which have reached $345 million in sales within the last month, plus JPGs, GIFs and even tweets; Jack Dorsey, the co-founder and CEO of Twitter is currently auctioning his first tweet, now NFT minted, for charity — the bid is currently $2.5 million. Lastly, 10,000 individual algorithm-designed characters, given away like digital baseball cards in 2017, were flipped for as much as $13,500 the following year, and one sold for $7.6 million on Wednesday, traded amongst those whom the blockchain literate have dubbed the "crypto-wealthy," centered in Silicon Valley. It can all, it seems, be traced to Silicon Valley. The fact that they're calling it art is, perhaps, just a convenient appellation. While digital art has been a part of our collective human creative endeavour for some time, its commodification needed an art world locked out of the fairs, galleries, museums and auction houses, suddenly forced to exist solely on the internet. Enter the greediest and savviest waiting there, and their new storefront is open for business.
Sincerely,
Sara
PS: "Art is no longer about a relationship with an object. It's about making money. I feel bad for art." (Sylvain Levy, art collector)
Esoterica: If you happen to have a bit of walking-around change and are thinking about some crypto art, you need to know that your NFT will never perfume your mansion with the ancient smell of linseed oil, gaze down on you raked with light on a Sunday morning or hint humbly, one day, for restoration. It will also never require photographing, crating, insuring and handling when you need to liquidate; its provenance will remain free of bunkers and palaces, and you won't even have to patch a hole in your wall when it's gone. Your NFT, rather than adding to your clutter and connecting you to the hand of its maker, will instead live as a commodity on the blockchain, perhaps changing accounts a few dozen times while the market's still hot. Finally, when you need a write-off, consider donating it to the Museum of Contemporary Digital Art, which also exists solely online, to be catalogued there, to "preserve and archive the art of our time."
Have you considered a Premium Artist Listing?  With each letter, an artist is featured at the bottom of this page. The Premium Artist Listings are a means of connecting artist subscribers through their work. Proceeds from each listing contribute to the production of The Painter's Keys. 
"The only reward one should offer an artist is to buy his work." (Pierre-Auguste Renoir) 
No Featured Workshop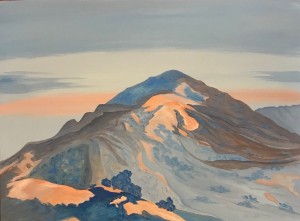 Cow Mountain View
30 x 40 inches
Featured Artist
The move to Northern California spurred my desire to paint the landscape – motivated in part by the fear that I would wake up one day and it would all be gone! I had some kind of doomsday concern, tantamount to extreme climate change or bombs going off like Hiroshima —something drastic.
The Wildfires of 2017 were traumatic, we experienced three on our land that year.
In processing the fire experiences and living with the constant awareness that what happened then can happen again.  I produced  a short film entitled:: From the Ashes – Fire, Survival. and Renewal, about how our community responded to the Redwood Complex Fire 2017.The is film available for free screenings to community fire councils and art institutions.  I am working on part two.
In 2020, largely due to the ensuing California wildfires, we chose to sell our 195 acre place and move back to the East Coast, where our families live and we are creating a new life and farm.
I am still witnessing and interpreting the landscape.
Jaye Alison Moscariello