Dear Artist,
In an effort to boost creativity, I've begun an experiment in which I expose myself to only genius-level music. For example, in my car, I switched permanently to the Beatles channel. Now, I zip around town in my genius-mobile, immersed and ever-renewed, in awe and inspired by the greatest ideas, compositions, melodies, arrangements, instrumentation, imagination and joy from the most familiar and also constantly expanding musical art of my life. I called my brother Dave, a rock musician and Beatles zealot-in-arms, to give him the news. "Good," he said. "Dad listened almost exclusively to Baroque music — and the Beatles are our Bach."
Recently, Paul McCartney, in an interview, said, "Thank goodness most of our songs were about love." Now in his late 70s, he seems relieved that his artistic contribution has skewed towards the most positive and productive of human truths. "'All You Need is Love', John's 'Give Peace a Chance' and such…I'm glad our songs weren't all about the world being a terrible place…or about telling the kids to leave their parents." I pulled the genius-mobile into the driveway, un-clicked my seatbelt and cranked 'Let It Be.' I thought about all the works of art that have remained beloved over the centuries. Have most of them — the ones that have endured — spread a message, essentially, of love?
After only a few weeks of genius-mobiling, my experiment has begun to take hold of the rest of my life. Instead of pulling constantly from the gluttonous buffet of information and media available to accompany painting, walking, driving, eating, resting and loving, I've reduced my noises to the naturally occurring ones in the garden and, for now, the Beatles. I'm transforming my life into a genius-mobile, in the hope of directing every nook and cranny towards excellence, creativity, ideas, joy, inspiration and love. Perhaps, if I'm lucky, I might catch some genius.
Sincerely,
Sara
PS: "And in the end, the love you take is equal to the love you make." (Lennon-McCartney)
Esoterica: Perhaps we filter the art we choose to remember and treasure like we do our memories. We're unconsciously selective — and — possibly, innately, inclined towards love or bitterness, cheerfulness or misery. Why do we hold onto certain works in our hearts over a lifetime and let go of others? I often think that it has something to do with how the art made us feel at the time of its discovery, representing a moment in history for us, personally or beyond. Other art endures simply because it is of such high quality that its value cannot be disputed. And why and how do we make what we make? Perhaps we must all identify the bar of what we believe to be greatness and try to live amongst this greatness in order to attempt to reach our own creative potential. I find myself comparing every work of art to the qualities of 'Yesterday.' "Is it 'Yesterday'?" "One cannot teach writing," a writing professor once said. "You can only expose students to greatness and hope that it inspires them."
Have you considered a Premium Artist Listing?  With each letter, an artist is featured at the bottom of this page. The Premium Artist Listings are a means of connecting artist subscribers through their work. Proceeds from each listing contribute to the production of The Painter's Keys. 
"Sadness isn't sadness, it's happiness in a black jacket… tears are not tears, they're balls of laughter dipped in salt." (Paul McCartney)
No Featured Workshop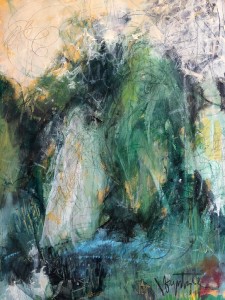 The 23rd Psalm, 2019
30 x 24 inches
Featured Artist
I grew up on a farm in Ohio, and that experience gave me a love of nature and the seasons and a deep belief in personal independence, as well as a love of experimentation. These have been the foundations of my work as a painter. I believe that learning in art or any subject is lifelong, and that the most important lessons we learn are through our personal interests and experimentation. After my husband's death in 2018, I visited Israel the next year, and was inspired by the amazing landscape colors, and especially the old city of Jerusalem, with its crumbling walls, and its deep religious importance. I found my way out of grief by painting the Eight Gates of the old city.