Dear Artist,
Being happy with your life is one thing — being happy with your work is another. Between snow-capped peaks, by satellite hook-up, some email responses to the previous letter 'Happiness' made me pay attention. One thing leads to another, so over the weekend we were onto the late British potter Michael Cardew's oft-discussed concept of The Joy Mode. Cardew said; "If you're lucky, and if you live long enough, and if you trust your materials and you trust your instincts, you will see things of beauty growing up in front of you — without you having too much to do with it." This insight is basic to many of our daily sorties into art. Luck, long life, and the trust and understanding of materials are givens — but it's the old instinct thing that often has us face down in the snow.
Some, it's said, have a simple instinct for getting into the joy mode. I've always thought it had something to do with competence — the better you are at it — the more you automatically do it. It seems confirmed incompetents have been known to be joyful too. Here are a few suggestions for artists of all stripes:
Permit the brain to separate from the hand.
Soften your vision, focus beyond and before.
Allow yourself to be "entranced" by your work.
Feel a "process" rather than an outcome, and…
Live in the life of the brush, chisel, roller.
Prepare to be surprised by your prowess.
Labor to make things look not laborious, and…
Take your time to be fresh.
Come into the wonderland of "Flow."
See that your "touch" is where you touch.
Know that you sit before an altar and are a servant of something greater.
Best regards,
Robert
PS: "I have touched with a sense of art some people — they felt the love and the life. Can you offer me anything to compare to that joy for an artist?" (Mary Cassatt)
Esoterica: It's a lofty dream: We modestly desire to turn work into play, minor joys into greater values, and our outpourings into a contribution toward the general good and by a stroke of outrageous luck into our personal profit. "Art is man's expression of his joy in labor." (William Morris)
This letter was originally published as "The joy mode" on September 4, 2001.
"Joy prompts courage." (Hans Christian Andersen)
Featured Workshop
January 23, 2022 to January 30, 2022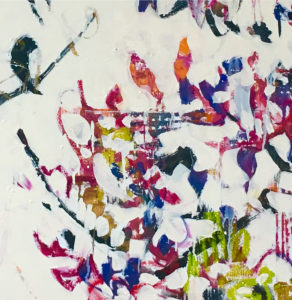 Join Ellie Harold for "Intuitive Painting: Permission to Paint Expressively," designed especially for mature women artists of all skill levels who wish to explore this medium for soulful exploration. The retreat provides attractive accommodations (your own room!) along with lightly structured activities for centering, relaxation and low stress art-making. You'll have plenty of free time to muse, paint, write and reflect while enjoying the colors, textures and flavors of San Miguel. This Retreat has the potential to transform not only your art but your life! You'll return home with a specific art "care plan" to assure support for further creating. Details at www.EllieHarold.com.
Featured Artist
My art represents a journey that has been on-going for more than forty years. Guidance from some wonderful artists. Years of plein-air painting and instructing have developed a style that I can call my own. I believe that my current work has attained its highest level so far, reflecting the depth of my absorption in the wonder and beauty of the world around me.  I have learned that, as an artist, I will never stop looking for better ways to express my feelings in art and that struggling to more fully understand myself is integral to my painting; a philosophy that was part of every workshop that I gave – and remains true today.