Dear Artist,
A collector of emerging and mid-career art recently told me about the friendships she's struck up with artists on social media, many of them young. "Before I knew it, we had moved to private messaging and were having meaningful conversations about their work." She described making contact after being drawn purely to the work online, learning of upcoming projects and then discovering the artist's in-real-life achievements, afterwards. "This sounds totally natural," I replied. "You have looked at thousands of works of art in real life and online and have developed your eye to recognize quality and things that interest you. How does it make you feel about galleries?" "They're still extremely valuable," she said, "I would not have discovered so many of the artists I adore if not for the support of their dealers. But the connection I feel through these direct relationships has been enriching beyond compare."
She wondered if I'd noticed more direct messages since the beginning of the pandemic — more digital connections, with art cravings compelled to be satisfied online. I replied that I had. What I've also noticed though, is the expediting of an already buoyant livelihood of emerging and established artists working outside the gallery system — almost solely on social media — some of them masterfully. Instagram has, for the moment at least, democratized a certain part of the art world — recognizing those with a talent for digital marketing, great communicators and whose work lends itself aesthetically to the medium. For my part, while I'm neither young nor old and have been working within a conventional gallery model for almost three decades, the internet has become an expected aspect of studio life. It has also, in my experience, gifted new and meaningful professional relationships, collectors and friends.
In a press conference after last night's totally streamed evening sale of Modern and Contemporary art in New York, Sotheby's auctioneer Oliver Barker reported that over a million people watched it online. "As we went into lockdown and put our heads together, little did we know that we could get so many people to be tuning in and get interested in this business," he said. "We used to be a live theater business, and now we're a streaming service."
Sincerely,
Sara
PS: "Societies have always been shaped more by the nature of the media by which men communicate than by the content of the communication." (Marshall McLuhan)
Esoterica: In Director Jeff Orlowski's 2020 documentary The Social Dilemma, he reveals that access to the internet on handheld devices beginning in 1996 coincided with millennials entering grade school, producing a generation unable to distinguish between their online social currency and personas and in-real-life experiences. This new paradigm has also created a leading edge of super-savvy young artists not only making, presenting and explaining their work online, but also marketing and building a collectorship digitally and outside conventional curatorial models. By taking on so intimately the business end, their work melds with its marketing and the marketing's medium — creating what I've surmised to be two parallel practices: the art-making and the presentation of that art on the platform. Gone is the old-school slow burn, eclipsed by an urgency and flair required for the now average 10 seconds spent on each post viewed during the typical 53 minutes any one person spends on social media, per day. When scrolling, that's a lot of flair.
Have you considered a Premium Artist Listing?  With each letter, an artist is featured at the bottom of this page. The Premium Artist Listings are a means of connecting artist subscribers through their work. Proceeds from each listing contribute to the production of The Painter's Keys. 
"The medium is the message. This is merely to say that the personal and social consequences of any medium – that is, of any extension of ourselves – result from the new scale that is introduced into our affairs by each extension of ourselves, or by any new technology." (Marshall McLuhan, Understanding Media: The Extensions of Man, 1964)
No Featured Workshop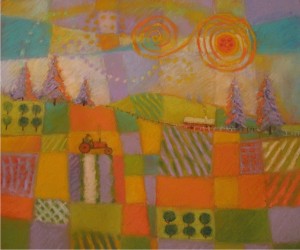 Sunrise Over the Farm #2
original pastel 15 x 15 inches
Featured Artist
Mary's interest in pastel painting began during her years at Whitworth College in Spokane, WA where she majored in art and elementary education. Though she has worked in watercolor and oil as well as calligraphy, her interest has consistently turned primarily to pastel because of the medium's potential for glowing, vibrant color and the harmony achieved in bringing together lights and shadows.