Dear Artist,
In 1893, ten years after first moving to Giverny, Claude Monet bought a meadow next to his property on the other side of the railway. A little brook called the Ru ran through it — a diversion of the Epte, which is a tributary of the Seine. With permission from the local council he dug a pond, inspired by the water gardens depicted in his collection of Japanese woodblock prints. He bought books on botany, made designs for the layout and plants and wrote daily instructions for his seven gardeners. All this was made possible because his dealer, Paul Durand-Ruel, 80 kilometres away in Paris, had pulled him out of debt and poverty by building an international market for his paintings.
Three years earlier at age 50, Monet had saved enough money to buy the house and two acres he'd been renting from a local landowner for seven years. With his second wife, Alice Hoschedé, and her six children, along with his sons, Jean and Michel, with model Camille Doncieux, Monet built up the orchard and gardens and constructed a greenhouse and second larger sky-lit studio. When he bought the neighbouring meadow, he selected exotic water-lillies from South America and Egypt to complement the French white ones, and added weeping willows, wisterias, azaleas and bamboo. He built a Japanese-style wooden bridge and traded rare plants with his gardening friends, Prime Minister Georges Clemenceau and Impressionist Gustave Caillebotte.
When he was 59, Monet zeroed in on painting his water garden — at first as vertical scenes with the Japanese bridge and willows. Soon, the lillies merely signalled a departure for light effects, underwater motifs, mirror-like reflections of clouds and foliage, colour vibrations and scumbled, surface abstraction, all on ever larger, panoramic canvases he lined up on easels in his purpose-built studio. Clemenceau, who'd persuaded Monet to have an operation for his cataracts in 1923, had for years been encouraging his friend to donate his largest Nymphéas paintings to France. The specially constructed oval galleries of the Musée de l'Orangerie opened to the public in 1927, a few months after Monet's death at age 86.
Sincerely,
Sara
PS: "All my money goes into my garden. I am in raptures." (Claude Monet)
"It is surely a great calamity for a human being to have no obsessions." (Robert Bly)
Esoterica: Meandering amongst the dappled shade and dragonflies a century later, the lily-pond ripples with a timeless grace, interrupted only by a steady wave of global selfie-takers. Peter and I duck towards a narrower, less cluttered path and into the longer golden grasses at the water meadow's edge. Monet lived in the pink crushed-brick house at Giverny from 1883 until his death in 1926, when he was interred in the nearby cemetery. Chugging at a snail's pace aboard Le Petit Train Givernon, a tourist tram that transports day-trippers to and from the Vernon train station, the locals beam and wave, as if to say, "N'est-ce pas vraiment merveilleux?" "So many friends of Claude Monet," I whisper to Peter. "What would he think of all of this?" "He'd smile, too," says Peter. "What a way to spend your last thirty years."
Download the new audio book, The Letters: Vol. 1 and 2, narrated by Dave Genn, here. Proceeds of sales contribute to the production of The Painter's Keys.
"These landscapes of water and reflections have become an obsession. It's quite beyond my powers at my age, and yet I want to succeed in expressing what I feel." (Claude Monet)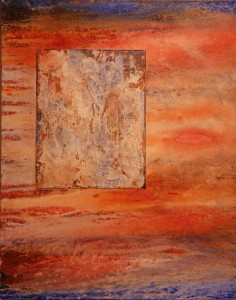 Transition
Featured Artist
Painting is my passion and joy.  My process is intuitive, though informed by good composition and design principles.  I paint what I remember, or think about, or feel, or just what comes off my hands to the brush to the canvas.  Texture and color are of primary importance to me.  I typically choose my support, texture it, select my palette, and go.  There is nothing more satisfying to me than watching paint run and move.  I love the surprises. I experiment and learn constantly.  It is a remarkable journey.  One I am pleased to share with you.