Dear Artist,
Unless you're already a senior artist and very well established, if you want to pursue a career in the arts in 2022, a CV is a necessary detail. For an artist, it's only important to include information relevant to your art practice, so you can leave out that second language and the stint you did at Boston Pizza – unless you now make pizza assemblages. These days, a quick search online will produce the CVs of artists of every professional stage. The key word here is professional – or aspiring professional. Of course you don't have to write one if you're pursuing art for non-professional reasons.
In defense of the Curricula Vitae, (or "life course"), it's a nice way to keep track of special projects, exhibitions, workshops, teaching gigs, residencies, awards and education. You need not include commissions unless they're public ones, or something you feel is important to the type of work you do. Think of your CV as the purest form of your artistic track – it's the place where your bottom line is less important than the stepping stones of your endeavour. In this way, it can be a kind of personal diary of your efforts. Even in my leanest years, there was always something or other to add there, as a kind of love letter to my own hardscrabble.
CVs get annoying when they take over an artist's personae – becoming the identity and value of the maker, instead of her art, which may be weak on actual skill or ideas. Keep in mind that everything is relative and depends on what you want. If your goal is to teach in an institution, your level of education matters – maybe even more than your art. Opportunists may appreciate a CV filled with press. If a gallery wants to find out if you're capable of producing a show, a list of previous exhibition experience is helpful. That old saying, "Your first job is the hardest to get," is true here, too. Over time, adding items to your list can be like building a stone path. One day, this accumulation will suddenly emerge not so much as a record of achievement, but as a snapshot of where your art took, and is taking you.
Sincerely,
Sara
PS: "The movements which work revolutions in the world are born out of the dreams and visions in a peasant's heart on the hillside." (James Joyce, Ulysses)
Esoterica: Think about your dreams for your creative life and also study the paths of artists you admire. There is no one track – for example, a level of education or residency experience or exhibition history does not guarantee a Picasso-esque juggernaut. Nor does hermitting CV-less grant you the mystique of an undiscovered genius. "A man of genius makes no mistakes. His errors are volitional and are the portals of discovery," wrote James Joyce in Ulysses. The great thing about a CV is that you can make changes for its suitability as you go, and you can change its course. In the end, it's merely your own humble record of the humble pains you're taking to grow into something. Some of us are more suited – or must learn – to keep track of these micro-steps. My Dad was clearly too busy painting, and luckily for him, the omission was acceptable for the kind of easel life he wanted. "The supreme question about a work of art is out of how deep a life does it spring." (James Joyce, Ulysses)
"To learn one must be humble. But life is the great teacher." (James Joyce, Ulysses)
Featured Workshop
January 23, 2022 to January 30, 2022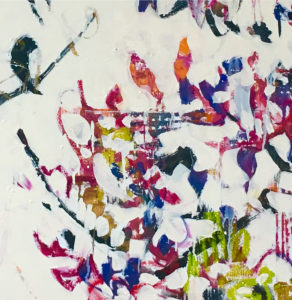 Join Ellie Harold for "Intuitive Painting: Permission to Paint Expressively," designed especially for mature women artists of all skill levels who wish to explore this medium for soulful exploration. The retreat provides attractive accommodations (your own room!) along with lightly structured activities for centering, relaxation and low stress art-making. You'll have plenty of free time to muse, paint, write and reflect while enjoying the colors, textures and flavors of San Miguel. This Retreat has the potential to transform not only your art but your life! You'll return home with a specific art "care plan" to assure support for further creating. Details at www.EllieHarold.com.
Featured Artist
Whether it's with paintings of musical instruments and their owners or a series about trees or through the many commissions I've painted over the years,
it is magic to watch paintings evolve as the lines, shapes and colors influence each other, even changing the mood of entire compositions while touching the edge of a canvas or crossing over and under or bumping into each other subtly or with a bang.
Above all, I want  each of my paintings to take me on a trip and give me something new to discover with each visit.